Now you can use the Power Platform Admin Center for Finance & Operations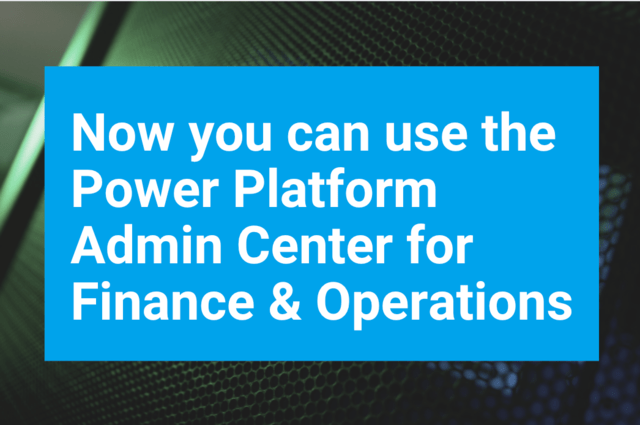 We've been following the news from Microsoft about capabilities for Finance and Operations that are being integrated within the Power Platform Admin Center (PPAC).
Microsoft has acknowledged that managing the growing number of front-office and back-office business applications is becoming increasingly challenging. In response, they are introducing the capability to manage Finance and Operations and other Dynamics 365 apps in one environment.
This convergence is aimed to make life easier and offer more flexibility; Finance and Operations apps will be able to be installed in the Power Platform environment model like any other Dynamics 365 application.
Currently, it's possible to use Power Platform integration from LCS, which connects a Dataverse instance to Finance and Operations. As this new integration rolls out, the Finance and Operations App will be installed within 365 Apps (when it shows up there, it means you have an AX database and the self-service runtime as well). The Finops Dev environment will give you the F&O instance and the F&O runtime, so there are essentially two endpoints.
If you already use CRM or Sales in Power Platform, you can install Finance and Operations into that same environment. In the future, it will already have the finance and operations app installed.
This makes it feel like one environment that gives you capabilities for low code development and brings CRM and ERP together.
If the Power Platform capabilities aren't of use to you, you will be able to continue to use Lifecycle Services to manage your Finance and Operations environments and apps. However, Microsoft aims to migrate to one admin workstream by 2025.  Currently, they are onboarding the Finance and Operations Apps (Finance, Supply Chain, Commerce, and Project Operations) via trial provisioning. It won't be until 2025 that all lifecycle services customers are migrated.
Right now, you'll need to sign up for Project Operations Trials to manage all your Dynamics 365 apps in a single environment and admin center.
As with prior massive efforts to converge or even migrate everything into one (Project Green and more), I am somewhat skeptical. The timeline for 2025 looks somewhat ambitious to me.
Interesting convergence news in 2022 release wave 2
Perhaps I am too skeptical. The latest release wave does include some exciting goodies.
Let me quote a few lines, and you can read more about the 2022 release wave 2 in my post Key new features in D365 FO 2022 Release Wave 2 – how you make the most of them.
Dynamics 365 Supply Chain Management in 2022 release wave 2
Prospect-to-cash scenario enhancements across Dynamics 365 Supply Chain Management and Dynamics 365 Sales. Probably the other way around, but let it be.
One Dynamics One Platform
One Dynamics One Platform focuses on the convergence of Finance and Operations apps with Microsoft Power Platform, enabling customers to take full advantage of Power Platform
with each Finance and Operations environment.
These features improve the development, administration, and user experiences by removing barriers, tightening integrations, and enhancing cross-platform capabilities.
In this release, Microsoft will strive toward enabling a one-transaction developer experience with true transactional consistency between Finance and Operations apps and Microsoft Dataverse. Dataverse virtual tables for Finance and Operations apps will have improved performance and reliability. Developers will be able to select multiple legal entities to filter event registrations for Finance and Operations apps business events and data events.
Microsoft will also converge the Finance and Operations batch framework with Dataverse jobs, maintaining a single scheduler across the platforms.