Key new features in D365 FO 2022 Release Wave 2 – how you make the most of them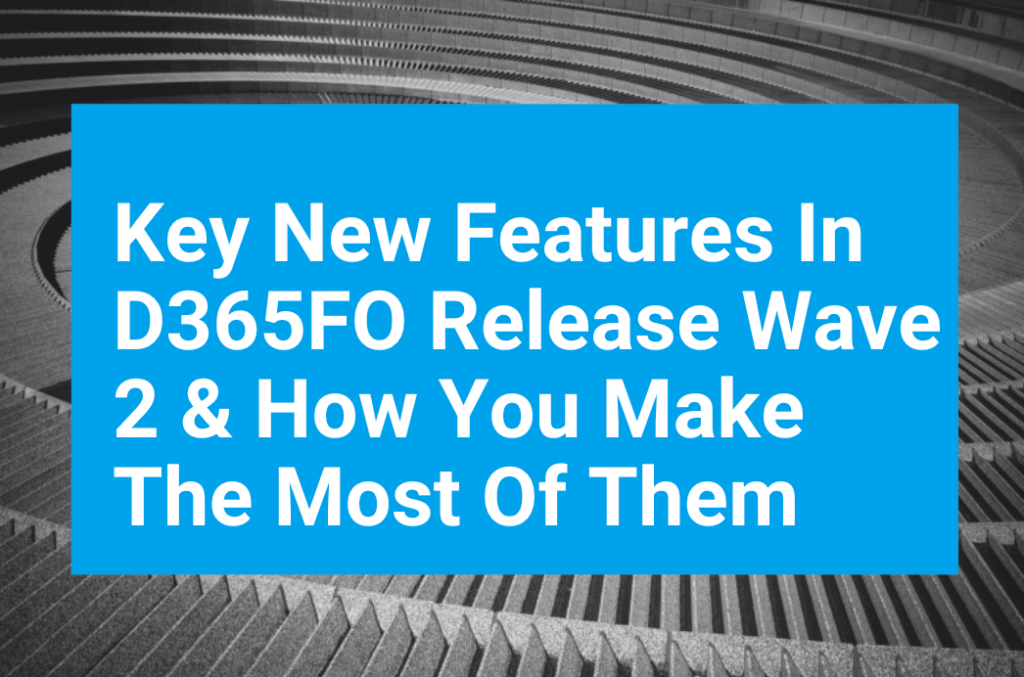 Microsoft has just released the Microsoft Dynamics 365 2022 RELEASE WAVE 2 PLAN – Features releasing from October 2022 through March 2023.
A lot of goodies – 365 pages, if you get the PDF file. Of those, around 100 or so are about D365FO Apps – and interestingly enough, Business Central spreads over 30 pages.
Below, I will list my personal favorites within D365FO and related as I get thru them. Initially, due to lack of time, I have just quoted MSFT.
Finance and Operations cross-app capabilities
Cross-application features
A lot of features are now mandatory, grouped in
Saved views / Personalization
Grid
Other
Some other optional ones will become mandatory with the 2023 release wave 1
One Dynamics One Platform
One Dynamics One Platform focuses on the convergence of Finance and Operations apps with Microsoft Power Platform, enabling customers to take full advantage of Power Platform with each Finance and Operations environment.
This is smoking hot if you ask me. Just say when…
Dynamics 365 Finance
Updates to Dynamics 365 Finance 2022 release wave 2 include:
Enhancing the subscription billing solution with quotes and split billing.
General availability of vendor invoice OCR (optical character recognition).

This will automate the reading and recognition of vendor invoices by providing OCR capabilities to complete the full end-to-end automation of accounts payable.

Enhancing Globalization Studio to provide for more breadth, depth, and scalability out of the box:

Tax Calculation service:

Eliminates the need for costly customizations for many complex tax scenarios. Continue extending the scope of the Tax Calculation service by integrating it with  Dynamics 365 Project Operations (in preview) and provide several enhancements to the service.

Electronic Invoicing service:

More countries are introducing mandatory business-to-business electronic invoicing with e-invoice clearance at tax authority agencies to fight tax evasion. To support the new upcoming e-invoice legislations, new e-invoicing capabilities are available that are legally required in France, Poland, and Saudi Arabia
Dynamics 365 Supply Chain Management
New features and improvements introduced during 2022 release wave 2 include:
Supply-risk analytics to help businesses identify and mitigate the risks associated with their sourcing strategies.
Improved support for supply forecasts and multiple external vendors in Planning Optimization to help organizations diversify their sourcing strategies.
Planning Optimization enhancements to better support manufacturers in the process industry shorten their planning cycles.
Simplified, guided implementation and configuration experiences to drive down warehouse management implementation time and effort, and enable companies to rapidly reconfigure their supply chains in response to changing demand patterns.
Flexibility and mobility in the warehouse packing process allow warehouse workers to complete packing operations from their handheld barcode scanners using the Warehouse Management mobile app.
Enhanced allocation capabilities through Inventory Visibility help organizations preallocate limited stocks to prioritized channels, regions, or customer groups. Real-time tracking of consumption within those allocated quantities lets organizations control oversell and make on-time replenishment decisions in support of promotions, special events, new product introductions, and so on.
Prospect-to-cash scenario enhancements across Dynamics 365 Supply Chain Management and Dynamics 365 Sales.
Advancements for multinational companies to make product information accessible in the user's own language, thereby reducing language barriers
Dynamics 365 Intelligent Order Management
Upcoming new features for 2022 release wave 2 include:
Order types: Backorders and subscription orders.
Support for Microsoft Teams.
Purchase Orders: Expanding outbound support to include inbound orders.
Order combination and delivery split: Choosing one or multiple warehouses to fulfill orders.
Self-service product returns powered by FedEx.
New providers
Dynamics 365 Project Operations
For 2022 release wave 2, Microsoft is delivering functionally rich experiences in the following areas:
Project budgeting and time-phased forecasting
Project baselines and snapshots
Import projects from Microsoft Project Desktop Client
Progress-based billing on fixed price contracts
Allow contacts as customers in Project Operations
Ability to bulk-confirm project invoices
Modernize user experiences in sales, billing, and pricing
Cancel PO receipts with connected item requirements
Use advanced subcontract capabilities with Project Operations for resource-based scenarios
Use subscription billing with projects in Project Operations for stocked or production-based scenarios
Use expense mobile application for delightful expense entry experiences
Intercompany ledger posting category support for timesheets in Project Operations for stocked or production-based scenarios
Modernize user experiences for time entry in Project Operation