Learn about the new subscription billing tools now in D365 Finance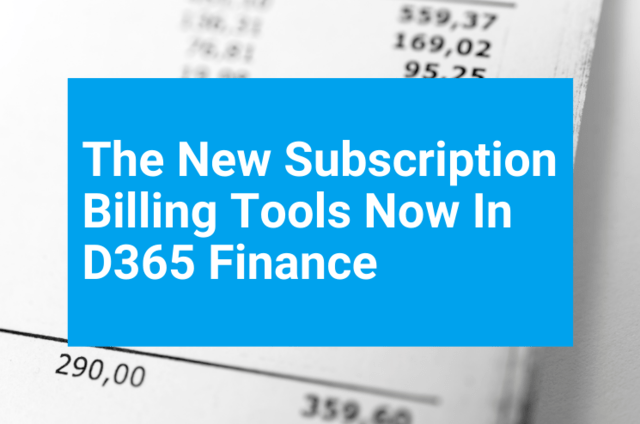 Microsoft is adding new subscription billing tools to Microsoft Dynamics 365 Finance through a new licensing agreement with Binary Stream Software. This adds a comprehensive solution for pricing, billing, invoicing, and recognition to D365 Finance – at last! If you ever came across the order type Subscription (sic!), you know what I am referring to…
Binary Stream's Subscription Billing Suite provides procure-to-pay and revenue and expense recognition capabilities that enable compliance with ASC 606 and IFRS 15 accounting standards.
The capabilities include tools to manage complex pricing and billing such as usage-based or tiered models and added reporting capabilities for companies with recurring revenue, according to Binary Stream.
Features and Benefits of the Subscription Billing Suite
Headlines
Recurring billing and pricing management
Compliance and recognition
Reporting and analytics
Details
Set different billing schedules per line item on a single contract while eliminating the need for multiple accounting systems
Automate contract renewals and termination to reduce manual processes and mitigate data entry errors
Customize your contracts to fit your customer's needs using a wide range of contract billing options including flat, consumption, tiered, and more
Create automatic recognition schedules as deferred or expenses as they posted to comply with all revenue recognition standards and audit requirements
Detail deferral schedules by transaction, reversal, or applied credits for improved forecasting and streamlined period-end reporting
Determine precise deferrals and prevent future period postings across one or multiple accounts along with a predefined deferral schedule.
Final notes
I really look forward to taking this for a spin, as I always found the true Subscription billing missing in D365 Finance. Recurring free text invoices was a help, still nowhere near complete with even simple things like placeholders for period names, etc. is missing.
Demo video
If you can't wait, I'd recommended you to have a look at this informative video:

On AppSource
As the Subscription Billing Suite was formerly (is?) available for purchase via AppSource, you might be familiar with the excellent features already.
Disclaimer
This post was compiled from information available at AppsSource, Binary Stream, MSDynamicsWorld, et al – and the actual features added to D365 Finance might end up differently.
Since then, Microsoft has finally spilled the official beans here: Subscription billing overview – Finance | Dynamics 365 | Microsoft Docs