Top 10 new features Dynamics 365 Finance – Summer 2021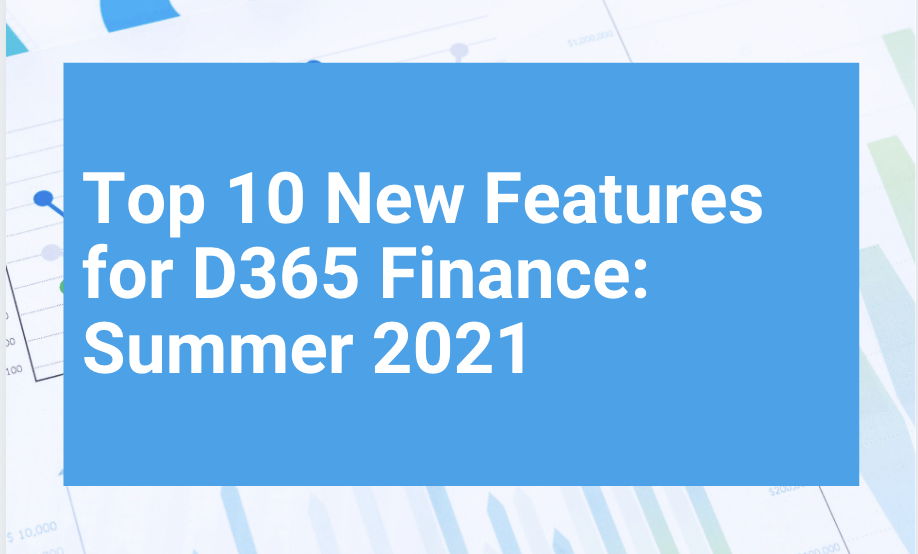 The Dynamics 365 Finance 2021 release wave 1
The D365 Finance 2021 release wave 1 plan, or officially known as What's new and planned for Dynamics 365 Finance, is divided into four areas:
Core financials
This release in core finance is focused on incorporating capabilities into the cash flow forecast and continuous enhancements across all financial areas.
Finance insights
This release provides configurable and extensible models to help you accurately and intelligently predict your company's cash flow.
Globalization
This release is focused on delivering localization for Egypt, general availability of the Electronic Invoicing Add-on, public preview of tax service, and several other highly requested features.
Public sector
This area covers features in Dynamics 365 Finance specific to the public sector industry.
Note: Some D365 SCM new or changed features affecting Finance
Please do note that some new or changed D365 SCM features also affect Finance.
Some of the new Finance features in detail
In Core financials
One of the more interesting features added is the Budget plan narrative. Budget planning is always a challenge and this feature This feature will enable budget planners to document considerations that went into creating the budget plan using a rich text HTML editor. The information entered here will be available for use in a budget plan narrative report. Not a huge thing, but personally, I find this a highly useful feature, as budget planning really involves so many considerations, hard to understand.
In Finance insights
Some of the really useful additions include Customer payment predictions, Forecast bank balance, and Intelligent budget proposal. All features help the insights or reduce the workload involves in the daily chores. And even a new Treasurer workspace, yet again adding tools and features to the Cash flow forecasting, that has been so improved over the last year.
Globalization
is of course all over the place (sorry), with Electronic invoicing being the big thing here. The Electronic Invoicing Add-on for Dynamics 365 is the first configurable globalization microservice that extends the capabilities existing in Finance, Commerce, Supply Chain Management, and Project Operations. It provides better scalability, agility to align with changing legal requirements, and consistent experience across the growing number of countries and regions demanding e-invoicing (60-plus) as well as business-to-business scenarios.
The feature Tax Calculation service – supporting multiple VAT ID is part of the Tax Calculation service. This service in turn is a configurable globalization microservice that enhances the tax determination and calculation capabilities in Dynamics 365 Finance, Dynamics 365 Supply Chain Management, and Dynamics 365 Project Operations. It provides a flexible tax determination matrix and configurable tax calculation designer to comply with local tax regulations, and supports multiple VAT ID determination for a single legal entity and its counterparties.
The Public sector
This sees just a single new feature, typically related to Purchase orders: Restrict ability to edit accounting distribution on vendor invoices
Some D365 SCM new or changed features affecting Finance
Please note that Finance staff should be aware of some of the new (or changed) and very useful features, listed by Microsoft under Supply Chain Management changes:
Global Inventory Accounting Add-in: inventory accounting using multiple costing ledgers, compliance with multiple accounting standards, and internal management accounting at the same time
Rebate management
Approve and save vendor-submitted bank details
Set default financial dimensions for inventory standard cost revaluation vouchers
Landed cost module.
Read more in our blog post Top 15 new features D365 Supply Chain Management – Summer 2021
My favourites – perhaps not yours
These features were my favourites at the time of writing. I might change my mind, and add more later.
Do you agree with my list and comments, or would you rather have listed some of the other new features? Please comment below!
Free webinar
AXcademy training lead Finn recently ran a webinar The New Dynamics 365 Finance Features Due Summer 2021.
If you'd like to watch the replay you can get it here.
Top 15 new features Dynamics 365 Supply Chain Management – Summer 2021
You might also be interested in our blog post about new Supply Chain Management features – Summer 2021. To read, please click here.