Our 8 key areas in the new 2021 Release Wave 2 Dynamics 365FO and Core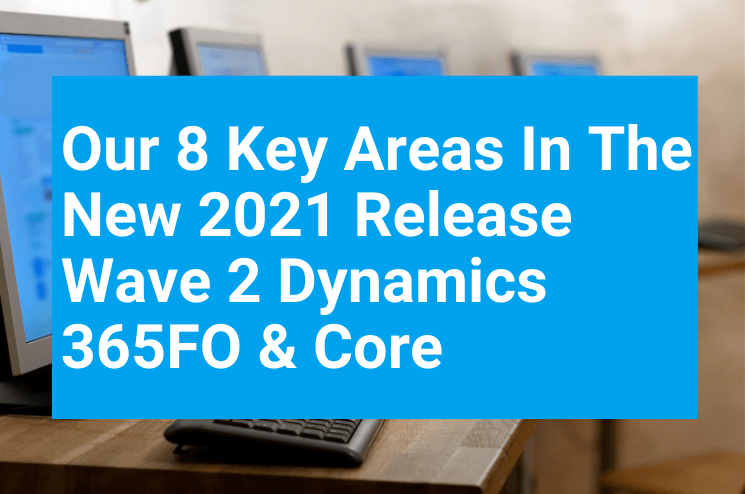 The 2021 release wave 2 plan for Microsoft Dynamics 365 is out. In a series of detailed blog posts, we highlight and comment on our 8 key areas.
The plan is a compilation of new capabilities that Microsoft is planning to release between October 2021 and March 2022.
This second release wave of the year offers hundreds of new features and enhancements, demonstrating our continued investment to power digital transformation for Microsoft customers and partners.
Our 8 key areas 2021 release wave 2 for Dynamics 365FO and Core
Below, please find the most important notes about the key changes in the Dynamics 365 Finance & Operations and Core functionality.
Details are found in other blog posts, linked under each area.
Finance
launches the general availability of Finance Insights to focus on data-driven insights empowering customers with out-of-the-box machine learning for their financial operations. This includes the intelligent cash flow offering.
To ensure that financial activities close on time, Microsoft is enabling customers to increase productivity when it critically matters the most: enhanced usability and performance around fixed assets, year-end close, and financial dimensions. This is done thru automation and modernizing the services used.
Microsoft also continues to enhance its globalization offering with additional localizations and the general availability of the Tax Calculation service.
Please also read the Finance news in
Key new features in D365 Finance 2021 Release Wave 2 – your fast track to making the most of them
Supply Chain Management
invests in enabling a resilient supply chain with enhancements in key areas such as resource planning, manufacturing, asset management, inventory management, and warehousing.
Microsoft will enable businesses to optimize their usage of available material and capacity to avoid stockout situations and keep the business flowing.
New manufacturing execution scenarios are included to allow integration between Dynamics 365 Supply Chain Management, common manufacturing execution (MES) solutions, and shop floor automation systems for customers to be able to adopt and integrate new business models with ease.
Please also read the Supply Chain Management news in
Key new features in D365 Supply Chain 2021 Release Wave 2 – your fast track to making the most
Project Operations
delivers functionally rich experiences to create and manage subcontracts with vendors for projects, as well as task scheduling enhancements.
Please also read the Project Operations news in
Key new features in D365 Project Operations 2021 Release Wave 2 – your best way to prepare for the improvements
Finance and Operations cross-app capabilities
brings in Microsoft Power Platform governance features to enable new capabilities such as environment provisioning, authorization and authentication, run-time events, and developer tools.
New capabilities in this release include providing enhanced data exchange experiences between Finance and Operations apps, Microsoft Dataverse, and Customer Engagement apps in Dynamics 365.
Please also read the cross-apps news in
Key new features in D365 FO cross-app capabilities 2021 Release Wave 2 – how you make the most of them
Human Resources
continues to enhance Benefits management capabilities by investing in a simplified setup and configuration user experience.
Microsoft is continuing the journey to bring capabilities to employees in their flow of work and enhancing the current capability set as part of the Dynamics 365 Human Resources app for Microsoft Teams. Employees can submit, edit, and cancel their existing leave requests using the Teams app. Microsoft is also enhancing the manager's ability to view more details about their direct reports' leave balances and have better visibility of the team and company calendar.
Please also read the HR news in
The impact of merging D365 Human Resource app into Finance and Operations
What is new and planned for Dynamics 365 Human Resources – before and after the merger
Dynamics 365 Commerce
prioritizes customer segmentation and targeting using a site builder to target customer segments with specific page layouts and content as well as an improved understanding for how end-users interact with pages across sites, including mouse-action recordings, heatmaps, and analytics by integrating with Microsoft Clarity.
Please also read the Commerce news in
Key new features in D365 Commerce 2021 Release Wave 2 – how you get to grips
Dynamics 365 Fraud Protection
will have multiple new features that enhance Payment Service Providers' (PSPs) ability to offer Fraud Protection as a value-added service to all their merchants. PSPs will be able to integrate Fraud Protection easily into their existing infrastructure to manage PSPs taxonomies that encompass many merchants and multiple hierarchies within each merchant entity.
Please also read the Fraud Protection news in
Key new features in D365 Fraud Protection 2021 Release Wave 2 – why they help protect your business even more
Dynamics 365 Guides
will be updated to further leverage the hand tracking capabilities available on HoloLens 2, making Dynamics 365 Guides an easier to use and more intuitive application.
While users will still be able to operate a guide with hands-free interactions, core application workflows will be simpler and faster with a touch-enabled holographic interface.
Please also read the Guides news in
Key new features in D365 Guides 2021 Release Wave 2 – easily create guides for your best user experience
Power platform news in a separate blog post.
In a later blog post, we will comment on the new capabilities that Microsoft is planning to release between October 2021 and March 2022 for Power Apps, Power Automate, Power Virtual Agents, Microsoft Power Platform governance and administration, and data integration.