Key new features in D365 Supply Chain 2021 Release Wave 2 – your fast track to make the most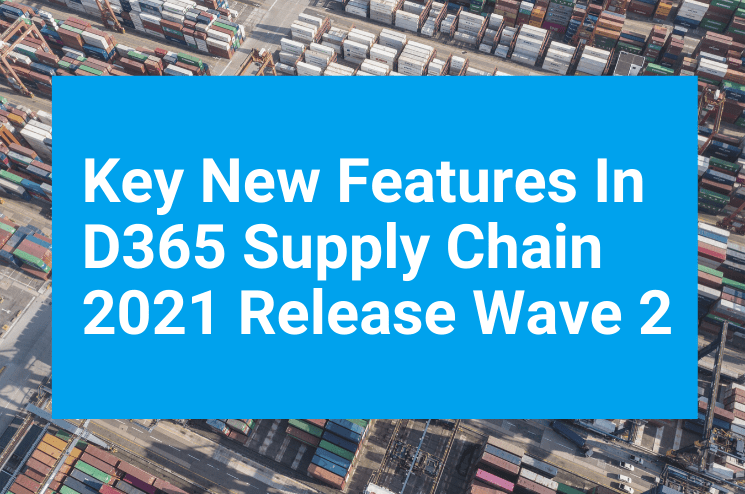 Read the overview, then study the details in this post –  your fast track to make the most of the key new features in D365 Supply Chain Management 2021 Release Wave 2.
Some of the functionality described has not been released. Delivery timelines may change and projected functionality may not be released (see Microsoft policy). Learn more: What's new and planned
Overview – main SCM feature changes
Companies need to be agile and change rapidly to meet the new business reality. One of the biggest impacts of the COVID-19 pandemic has been the disruption in supply chains driven by a historical emphasis on efficiency versus resiliency. Enhanced supply chain visibility, multiple business platform support, optimized workforce, agile planning, and distribution processes, combined with maximized asset uptime to ensure safe and cost-efficient business continuity, will be key components with investments as follows:
Continue to provide comprehensive core capabilities

Provide enhanced capabilities across product information management, planning, inventory and logistics, manufacturing, and asset management.
Enable businesses to scale mission-critical operations in the factory and warehouses using cloud and edge scale units.
Microsoft will continue investments through organic and inorganic means to expand core supply chain capabilities.

Enable resilient supply chain and visibility

Increasing resiliency continues to be a priority for organizations as they emerge from the current crisis and reset strategies to anticipate and minimize disruptions.
Organizations will strive toward balancing cost and investments in creating a resilient supply chain and visibility.
With investments in key areas such as resource planning, Microsoft will enable businesses to optimize their usage of available material and capacity to avoid stockout situations and keep the business flow.

World-class service health and execution

Customer adoption and satisfaction, and good references, are critical to Microsoft's success. Customers should be able to adopt and integrate new business models with ease.
New manufacturing execution scenarios allow integration between Dynamics 365 Supply Chain Management, common manufacturing execution solutions, and shop floor automation systems.
Microsoft will continue its investments toward better discoverability, improved trial experiences, improved net satisfaction scores, and other fundamentals efforts.