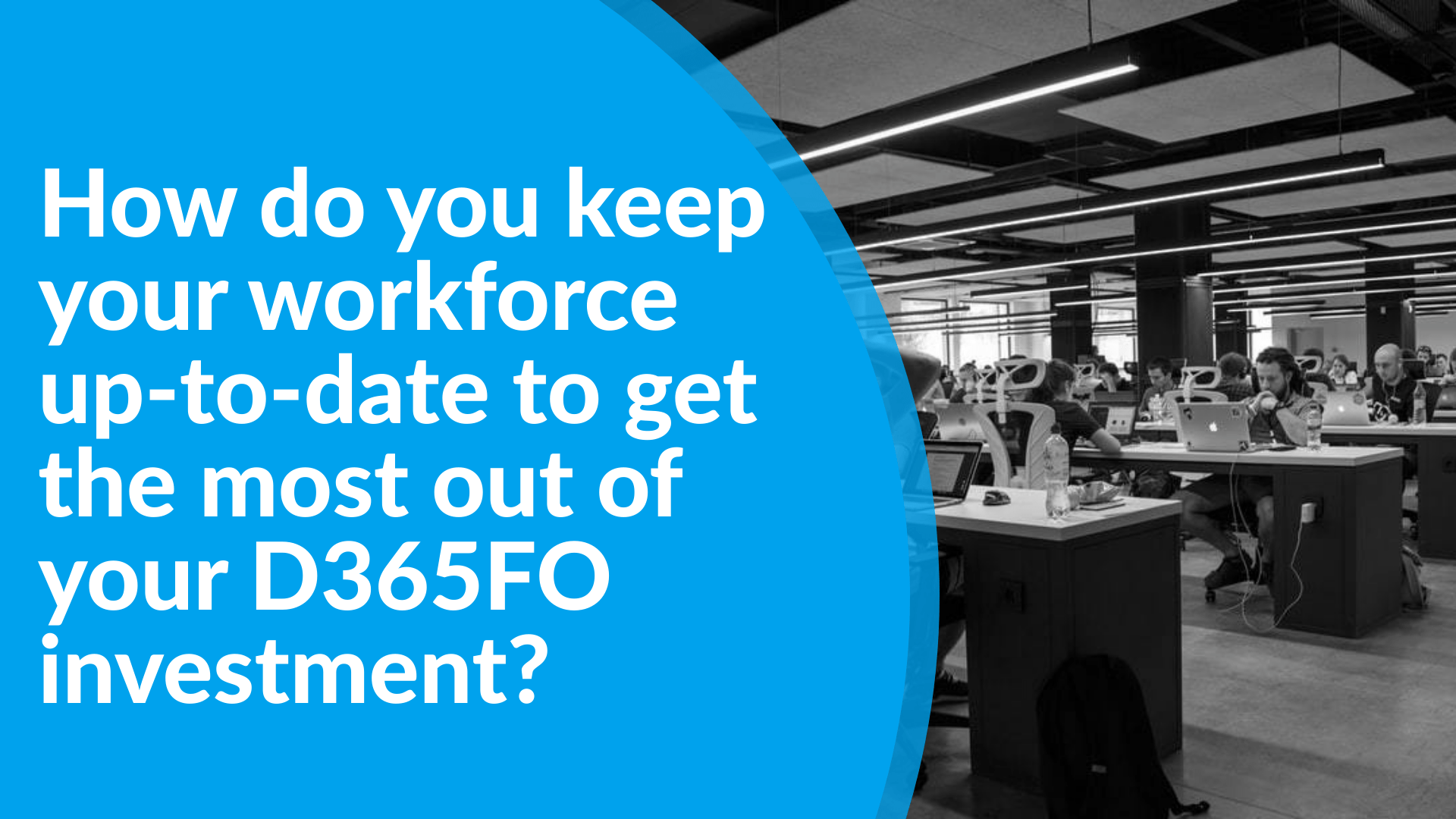 Keeping your workforce up-to-date to get the most out of your D365FO investment
Microsoft Dynamics 365 and the Microsoft Power Platform are the systems of choice for thousands of small and medium-sized businesses and around 90% of Fortune 500 companies. These systems have extensive capabilities, but how can you ensure your organization is getting the maximum benefit from using these powerful tools?
Without a doubt, ensuring your workforce is appropriately trained will contribute to the success or failure of your ERP implementation and continuous deployment.
The benefits of investing in your employees' training are two-fold:
Upskilling your workforce empowers your people and demonstrates your commitment to their professional development.
Keeping employees up-to-date and equipped with the latest advancements in Microsoft Dynamics 365 will enable your business to take full advantage of your ERP solution and improve efficiency and accuracy.
What approach should you take to training?
Microsoft Dynamics 365 Finance & Operations is constantly evolving and therefore your training program needs to keep pace.
Your ERP system is most likely used by different staff, in different departments, and for different business processes. It's vital you keep your people trained on the processes required by their roles, focusing on the modules they use day-to-day and that are relevant to them (there's no point training your Finance staff on the CRM side of the system if there is no benefit to them). A role-based approach to training will help keep employees engaged with the training process and be more willing to learn new approaches.

Whilst initial training of new employees and when introducing your new ERP system is vital, continuous training is equally important. Studies have shown that when we learn something new, but then make no attempt to relearn that information, we remember less and less of it as time goes by. The biggest drop in retention happens soon after learning so it's especially important that we put knowledge into practice as soon as possible after training, it has also been proved that we are more likely to remember learning that has meaning to us – two reasons that role-based training is particularly effective.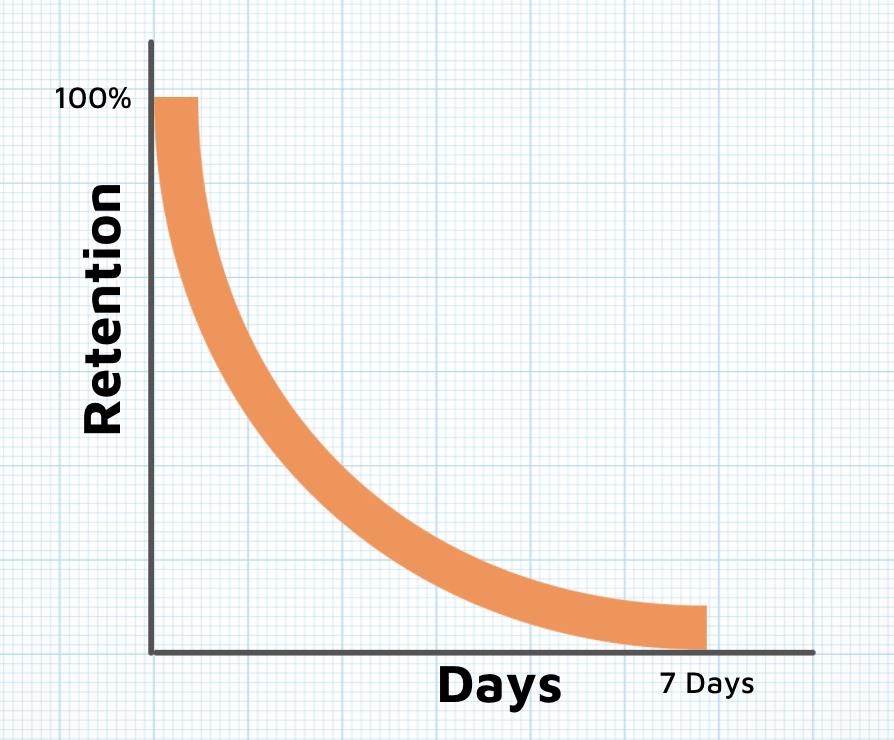 As humans, we can be slow to embrace change, and so, refresher training can help us to learn to use systems more effectively and be brought up-to-date on new functionality. Ongoing training will help prevent your workforce from reverting to using old, familiar programs which they may consider easier than embracing something new.
Training Solutions For Your Organization
Consultants & Partners
Many Microsoft Dynamics 365 Finance & Operations end-users work with consultants and partners to implement their ERP system. Instead of training your end-users on all aspects of the system, you may consider relying on more consulting hours to optimize your ERP use.
Partners can look after the technical side of your ERP system which can minimize disruption to the business as they will ensure your system is updated and give ongoing support to your workforce.
On-demand online training solutions
Off-the-shelf e-learning solutions offer a number of advantages, not least the ability for your staff to learn in their own time, at their own pace, and wherever they may be. Without the need for extensive time out of work, travel, and the cost of in-person training online courses can be an effective solution for many organizations.
The convenience of online learning solutions is attractive to both employers and employees. At AXcademy we offer a number of on-demand learning courses both aimed at certification exam preparation and role-based learning. For complete beginners, perhaps staff new to your business, we also offer a comprehensive "Introduction To Microsoft Dynamics 365 Finance and Operations" on-demand course.
Live online training solutions
An increasingly popular option since the start of the pandemic is live online instructor-led training courses. This type of training is delivered online in real-time and are as close as you can get to attending a physical classroom-based course. This option offers the flexibility of location and accessibility with the structure of live lessons, a particular advantage is the opportunity to get live support from a trainer and to work alongside other trainees which many find more motivating than independent study.
At AXcademy we regularly offer live online D365FO exam preparation courses to help support those planning to sit the certification exams.
Bespoke training solutions
Your organization is unique and you may have customized and configured your Dynamics 365 solution to meet your needs. If that's the case, you may want to consider instructor-led classroom-based or live online training that is tailored to your organization. This more traditional approach has the benefit of having a Microsoft expert on hand, who is familiar with your set up, to answer questions.
This type of bespoke training program will be developed to suit your team and often instructors will come to your premises to deliver it or employees can be sent to external classroom-based courses. This type of training is extremely effective, as it can address the specific needs of the organization and staff members.  At AXcademy, we have delivered this type of training in many different types of organizations. We have traveled the world to deliver on-premise training for a large number of companies, including Microsoft, and a variety of staff profiles including daily users, project members, and solution architects.
During the pandemic, a number of organizations are opting for our live online tailored training solutions to enable training to proceed remotely.
Develop Power Users
One effective approach is to train a small number of 'power users' who can act as experts within your organization and support colleagues. Sending a small number of workers on training courses and funding them to complete Microsoft certifications can be a wise investment.
Develop in-house specialist expertise by supporting a willing and able employee through the D365FO certification process; the valuable knowledge they gain can be shared throughout your organization without requiring every employee to go through training.
The advantage of training a small number of employees with these specialist skills is that they know your business needs and can identify what areas are most relevant and useful to share with the rest of the team.
Microsoft Documentation
It makes sense to go straight to the source and ensure you read all release notes when they come out to keep skills properly up-to-date. In reality, most organizations don't have the time required to do this and ensure all staff do the same, and/or have processes in place to disseminate this information. Ensuring you subscribe to email updates and forums can be a more manageable way to keep yourself informed of relevant changes, however, this may not be the best approach to keeping your workforce up-to-date.
What next?
Talk To a dedicated Training Partner
Apart from knowing the software inside, a dedicated training partner like AXcademy has the knowledge and resources to support your business in developing and delivering appropriate training for your workforce.
Ongoing training of D365FO end-users is crucial to get maximum efficiency and productivity out of your system. A business will often use a variety of solutions to ensure they have a range of abilities within the organization and ultimately aiming for in-house expertise will give greater flexibility in what you can do with this powerful ERP solution.
Talk to us about which training solution is right for your organization: book a call
.