How I passed the new MB-920 Fundamentals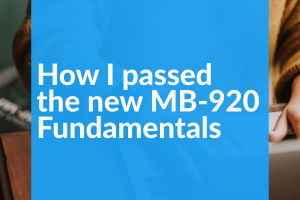 Challenging it was. But yes, I did pass. The message came through after a couple of months (expected, as I did the beta exam).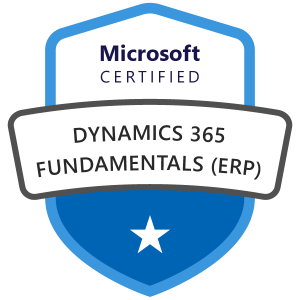 Preparations
Live Online Courses
A great way to get fully prepared for the exam is to join our MB-920 Fundamentals (ERP) Live Online Course
What other options are there to prepare to pass the MB-920 Fundamentals exam?
My webinar What you need to know to pass the new MB-920 Fundamentals exam could also be of value to you.
Apart from that, not much to find, except a bit on Learn. I also had a go at the old Fundamentals (MB-901) but that was time wasted really.
The MB-920 Fundamentals exam
60 minutes.
45 questions – often with questions in questions.
Question types:
Drag and drop,
Drop-down and select
Multiple choice.
No

hands-on
long case studies/ gap-fit match.
Questions and answers were really all over the place, including some answer options mentioning Business Central (tsk tsk).
Areas
Pretty much along the updated MB-920 exam skills required specifies:
Dynamics 365 Supply Chain Management
Dynamics 365 Finance
Dynamics 365 Commerce (including Dynamics 365 Fraud Protection)
Dynamics 365 Human Resources
Dynamics 365 Project Operations
Dynamics 365 Business Central  (removed gone with the last skills guide update)
More Manufacturing questions than I would have thought – and too many "exotic" areas than I like. Exotic to a core F&O guy like myself are the new Project Operations, the Commerce, and the Human Resource (aka Talent, aka Human Resource) areas.
What do you need to pass?
A very good memory, and broad knowledge of the various applications. Not much about setup, more conceptual.
(to be continued…)