Now you can read your Skillpipe manuals offline – like D365FO MOCs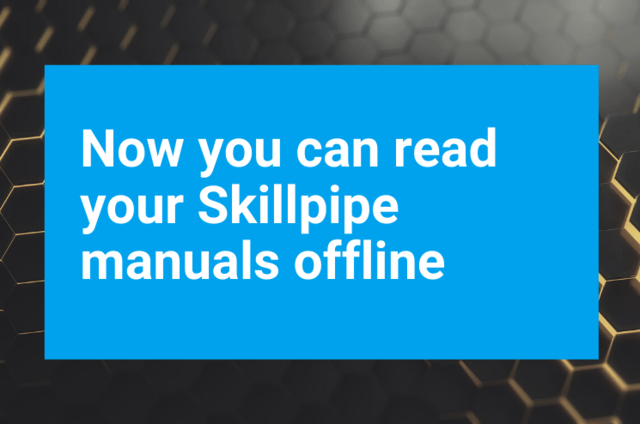 The below news about the Skillpipe tool for accessing Microsoft Official Courseware (MOC) is based on newsletters from Arvato (the Skillpipe tool provider), Microsoft, and our own experience with the Skillpipe tool.
News in Fall 2023
After more than eleven years of providing users with access to technical training materials, Skillpipe is officially retiring its services as of December 31, 2023.
After this date, the system will shut down, and you will no longer be able to access the courseware.
News in July 2023
Skillpipe manuals for D365FO are no longer accessible.
News in July 2022
Recently, Microsoft announced changes to how partners will be able to access and provide Microsoft Official Courseware (MOC) to students.
Microsoft Learn will soon be the exclusive source of Microsoft training materials for students.
Microsoft Learning Partners, like AXcademy, can still order Skillpipe courseware license keys until the end of September 2022. Students can register distributed license keys until the end of 2022.
Existing titles already registered and new titles added to your Skillpipe bookshelf continue to be available for at least 180 days after your license registration, according to Microsoft. Previously, some titles have proved to be available "forever". That might change for all titles since Microsoft probably will no longer update Skillpipe titles once the transition of the title to Learn has taken place.
Update 2021, October 14
Skillpipe: Enhanced Note-taking Part 2
Last month Arvato introduced the improved highlight and note-taking feature in Skillpipe which includes a rich text editor and the ability to edit notes directly within the notes tab.
Arvato has now increased the built-in character limit that can be entered into a single note so that users are able to enrich their notes with more information.
Another new function is now available:
Users can now insert hyperlinks into their notes. This function for example allows trainers to share additional study material with their students or for students to enhance their own notes.
There are two ways to insert a hyperlink: 
When creating or editing the note, the hyperlink can simply be inserted into the rich text editor

Users can use the hyperlink icon from the Rich Text Editor Toolbox to insert the hyperlink into the Add Link box

Update 2021, September 17
Skillpipe: Enhanced Note-taking
Skillpipe now provides users with improved highlight and note-taking features, making it easier to find and retain essential knowledge from courseware.
The new rich text editor allows Skillpipe users to format and structure annotations. ​
Highlighted text passages now retain the source formatting to make it easier for students to see and understand the context of their annotations within the notes tab.
Annotations can be edited directly in the notes tab without bringing up the note pop-up modals.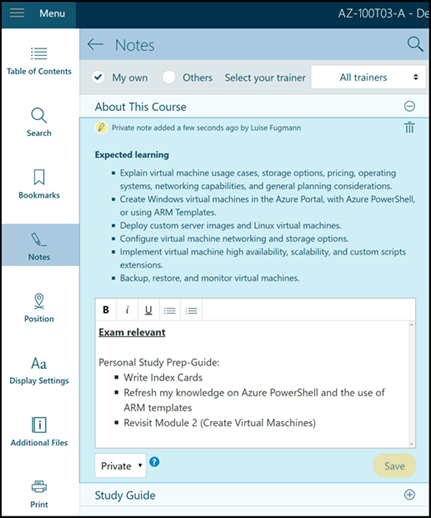 Additional enhancements, like an increased character limit for notes or improved search options for annotations, will be added in future releases.
Update 2021, August 17
Skillpipe Offline function
"Access Microsoft courseware anytime, anywhere with the Skillpipe Offline function. This function allows students and instructors to access training content while traveling or in a location where a reliable internet connection is not available.
Other advantages to the offline access function includes:
Reduced internet bandwidth usage
Faster loading times when accessing saved courseware
Greater stability while accessing courseware.

Skillpipe users can save redeemed courseware titles to their browser cache to continue accessing courseware without an active internet connection or a separate application.
Hint: To access your Courseware offline, users must make sure the courseware content is downloaded to their bookshelf while they have an active internet connection!
How can I save a course for offline usage?
You can save courseware while browsing the bookshelf or while you are reading the courseware.
Bookshelf:
Find the course you want to save on your bookshelf and click on the "Download" icon under the course cover to initiate the download process.
While the course is downloading, a loading animation is displayed.
When the download of the course of the courseware is complete, the download icon will change to a checkmark. When the checkmark is displayed the courseware is available for offline access.

Reader:  
If you are already viewing the courseware and want to download it, click on the "Download" icon next to the course title.
Loading animation is displayed while the course is downloading.
When the courseware download is complete the download icon will change to a checkmark. Once the checkmark is visible the courseware is available for offline access.

Update 2021 January 20
Now again it is possible to have offline access to your Skillpipe manuals, including MOCs like MB-300 Microsoft Dynamics 365 Core Finance and Operations.
I had this question from students repeatedly over the last couple of years, ever since the earlier feature was removed.
Skillpipe download and offline access is back
I just noticed the other day, that Skillpipe updated the reader, and then I noticed this:

Unable to find any news about the Online / Offline and the obvious Download button, I got in touch with their friendly support and got this immediate answer:
"What has changed [in Skillpipe]? 
 Offline access to single course 
In Skillpipe, you can now download the course you are currently reading. Once downloaded, you can switch into an offline mode to access the content without an internet connection. In offline mode, all included text and images. Features that require an active internet connection are disabled, such as adding or editing annotations. To access all available Skillpipe features and pages, you need to switch back into online mode.
Content encryption for online and offline usage
A precondition for the release of an offline feature was to ensure that the content is safe. We have implemented a content-encryption mechanism that protects downloaded content and increases security against online content hacking attempts. The entire content available in Skillpipe has been encrypted to add this extra layer of protection. We have updated our publication pipeline to apply the encryption feature to all new or updated content.
What's next? 
In our next release, we will extend the offline feature to the user's bookshelf. Users can download all courses available on their bookshelf to access them without an internet connection.
We decided to release the offline feature iteratively, so this release is only a first step on our way to becoming an offline reader. Please note that the offline feature released today is limited to the course you are currently reading. We continue working on extending the offline feature as described above."
Skillpipe – Offline Access to Courseware (Phase I)  
And then I got hold of the newsletter with the announcement::
Arvato is proud to announce that a new Skillpipe feature that will enable access to courseware without a connection was released on January 13th. This update provides students with the option to access a single course while working without an internet connection. To use the offline feature, students download the course they are currently reading, the feature then allows the student to switch into offline mode and enable them to access downloaded content without an internet connection.
*Note- Skillpipe features that require an active internet connection, such as adding or editing annotations or multimedia content (like videos), are unavailable in offline mode. To access all available features and pages, once they have access to an internet connection Skillpipe users will need to switch back into online mode using the toggle option in the upper right corner of the reader window.
What's next?
This release is the first step on providing more offline features. Arvato will continue working on extending offline functions and expanding abilities to include the entire student bookshelf.
Stay tuned for updates on future newsletters.
I am looking forward to the next update of Skillpipe, so more courses can be accessed offline.