In this 5-day exam class MB-500 Microsoft Dynamics 365: Finance and Operations Apps Developer we discuss the tasks needed to fulfill the role of a developer.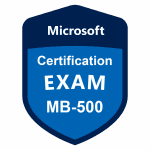 In this class, you will learn about
Architecture
Developer Tools
Solution Design
AOT Elements
Code Development & Testing
Data Migration
Frameworks
Reporting
Security & Performance
This exam training class is not just about you passing exam MB-500 – it aims higher: we want you to understand and be able to apply your skills in real-life scenarios after the training has ended, not just in an exam situation while at our training center. And we are confident that you are indeed able to pass the exam after finishing the training, too!
Related
This exam is part of these Microsoft certifications
Please note that this exam is not a prerequisite to sit the exam MB-300 (or the other way around).
Typical participant profiles:
Microsoft Dynamics 365 Finance and Operations Apps Developers.
Candidates for this exam are Developers who work with Finance and Operations apps in Microsoft Dynamics 365 to implement and extend applications to meet the requirements of the business. Candidates provide fully realized solutions by using standardized application coding patterns, extensible features, and external integrations.
Candidates are responsible for developing business logic by using X++, creating and modifying Finance and Operations reports and workspaces, customizing user interfaces, providing endpoints and APIs to support Power Platform apps and external systems, performing testing, monitoring performance, analyzing and manipulating data, creating technical designs and implementation details, and implementing permission policies and security requirements.
Candidates participate in the migration of data and objects from legacy and external systems, integration of Finance and Operations apps with other systems, implementation of application lifecycle management process, planning the functional design for solutions, and managing Finance and Operations environments by using Lifecycle Services (LCS).
Candidates should have deep knowledge and experience using the underlying framework, data structures, and objects associated with the Finance and Operations solutions.
Candidates should have experience with products that include Visual Studio, Azure DevOps, LCS tools, or SQL Server Management Studio.
Candidates should have experience in developing code by using object-oriented programming languages, analyzing and manipulating data by using Transact-SQL code, and creating and running Windows PowerShell commands and scripts.
Prerequisites:
It is essential to have participated in our course Introduction to Microsoft Dynamics 365 for Finance and Operations or in other ways have obtained equivalent knowledge.
Level:
200 (Intermediate).
Module 1: Overview & Architecture
Describe the Dynamics 365 ecosystem and major components of the Dynamics 365 Finance and Operations (FO) software, describe the architecture of D365FO, describe relevant D365FO design and deployment considerations
Lab: Development Environment configuration and Project/Model Creation
Module 2: Developer Tools
Manage system implementations by using Lifecycle Services, Customize D365FO by using Visual Studio, Manage source code and artifacts by using version control, Work with other development tools to complete tasks
Lab: Source Control using DevOps
Module 3: Solution Design
Determine the required application stack components and server architecture, Implement Application Lifecycle Management (ALM), Design a solution for D365FO
Lab: Data Structure Development
Module 4: AOT Elements
Create forms, Create and extend tables, Create Extended Data Types (EDT) and enumerations, Create classes and extend AOT elements
Lab : Metadata Extension & Development
Module 5: Code Development & Testing
Develop X++ code, Develop object-oriented code, Extend D365 FO functionality, Describe test framework and tools, Perform Unit Testing
Lab : Code Extension & Development
Module 6: Data Migration
Describe migration tools and methodologies, Plan Migration strategy, Prepare data for migration and migrate data
Lab: Data Export/Import using Data Entity
Lab: Recurring Data Transfer
Module 7: Frameworks
Implement D365 FO functionality
Lab: SysExtension Framework
Module 8: Integration
Identify Data integration patterns and scenarios, Implement Data integration concepts and solutions, Implement Recurring integrations, Integrate D365FO with Microsoft Azure, Troubleshoot integration errors, Implement the Data Management Package API
Lab: OData Integration
Lab: Logic App Integration
Lab: Calling an External Web Service
Module 9: Reporting
Describe the capabilities and limitations of reporting tools in D365FO, Design, create, and revise Dynamics Reports, Design, create, and revise Dynamics workspaces, Design, create, and revise data sources that connect to data stores external to D365FO
Lab: Power BI reporting from F&O
Module 10: Security & Performance
Describe and implement performance tools and LCS Environment Monitoring tools, Implement role-based security policies and requirements, Apply fundamental performance optimization techniques, Optimize performance for batch processes, Optimize user interface performance, Enhance Integration performance, Optimize Report Performance
Lab: Async & Sandbox Functionality
Methodology
On top of our training methodology, Problem-Principle-Procedure, we apply a proven track to ensure successful exam training:
GateQuiz – to align skills level and suggest pre-study
Pre-training webinar – meet the instructor and get ready
The training class itself – plenty of hands-on in-class and optional homework
If you select to add the optional exam day:

Recap of the week – important highlights
AXcademy or other exam prep quiz
Question and answer session – final tips and tricks
Sitting the MB-500 exam itself (exam fee is included in the + exam day ticket options).
Courseware/training materials used
This course includes all or part of the topics of below listed Microsoft Courseware
MB-500T00 Microsoft Dynamics 365: Finance and Operations Apps Developer

[sc_fs_event html="true" title="Exam class MB-500: Microsoft Dynamics 365: Finance and Operations Apps Developer" title_tag="h2″ event_location="AXcademy Live Online Course" location="Live Online Course" start_date="2020-11-23T09:00″ end_date="2020-11-27T17:00″ street_address="Gregersensvej, entrance 8″ address_locality="Taastrup" address_region="" postal_code="DK-2630 " address_country="DK" css_class="" ] This 4-day exam class for developers enables you to provide fully realized solutions by using standardized application coding patterns, extensible features, and external integrations. [/sc_fs_event]