Key new features in D365 FO 2023 Release Wave 2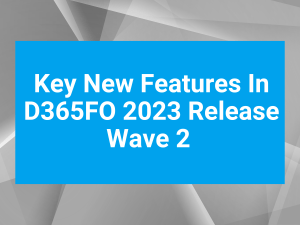 Microsoft has just released the Dynamics 365, Viva Sales, and supply chain platform: 2023 release wave 2 plan – features releasing from October 2023 through March 2024.
A lot of goodies – 535 pages, if you get the PDF file. Of those, around 150 are about D365FO Apps (and interestingly enough, Business Central spreads over 116 pages!). And yes, "AI" and "Copilot" is indeed mentioned very frequently…
The plan even mentions benefits for customers upgrading from AX 2009 or AX 2012.
Webinars coming
Join our free webinars, where we will present the best of the new features in Finance and in Supply Chain Management:
Quick Overview
Initially below in the sections, due to a lack of time, I have just quoted MSFT.
Tip: Click each section heading to jump to more details.
"continues to invest in capabilities that apply to all finance and operations apps, including Dynamics 365 Finance, Dynamics 365Supply Chain Management, Dynamics 365 Commerce, and Dynamics 365 Project Operations." (this is kind of stating the obvious…)
"is focused on enhancing organizations' visibility into their data, continued enhancements for AP and bank statement automation, and expanding out-of-the-box country coverage in LATAM.
Additionally, the team will deliver further automation of complex tax scenarios and e-invoicing requirements for more countries and provide organizations the ability for business model expansion and agility."
"continues to improve and optimize business processes to deliver the agility and resilience needed for businesses to thrive in an increasingly complex business environment.
The sales and procurement processes will be further enhanced, manufacturers will enjoy greater flexibility, and warehouse processes related to counting, customer returns, and product receipts will be improved."
"is investing in enhancements to services procurement scenarios and project contracting and new functionalities and scenarios in pricing models will support the evolving patterns in the service-centric economy.
Additionally, improvements to intelligent resource recommendations will provide suggestions based on experience, cost, and utilization across employees and subcontractors."
"will be improving recruiting experiences with functionally rich and intuitive experiences that target recruiters, candidates, and hiring managers.
We will expand the HCM ecosystem to include learning management system integration through public APIs leveraging Dataverse along with expanding our payroll partner network."
"will enable end-to-end omnichannel capabilities and unified back-office management and operations.
Additionally, introduce AI-powered capabilities to enhance customer experiences and streamline operations. To leverage these capabilities, retailers can converse using natural language with Copilot in Dynamics 365 Commerce to accomplish tasks more swiftly and efficiently to better engage with their shoppers."
Finance and Operations cross-app capabilities
Microsoft: "We continuously enhance the platform and services that support finance and operations apps with new capabilities to enable businesses everywhere to accelerate their digital transformation. As we add product enhancements, we deliver frequent updates that help customers stay current consistently, predictably, and seamlessly.
The key driver for the new core capabilities is increasing productivity and return on investment."
Cross-application features
Well, not much here…
One Dynamics One Platform
Virtual table users accessing finance and operations data will realize better performance, automation, and less management, making it an alternative solution for accessing finance and operations data on the Power Platform with less effort. This is a massive leap in realizing a long-standing customer promise of the One Dynamics One Platform.
Customers using export to Data Lake will have an opportunity to transition to Synapse Link for Dataverse, which will bring an integrated experience with the ability to choose data from all Dynamics 365 apps.
For AX 2012 or AX 2009 customers planning an upgrade to cloud-based finance and operations, you can easily query finance and operations data using Azure Synapse Analytics. You can preserve your existing data integration pipelines by accessing finance and operations data in the lake in table form, as Synapse Link for Dataverse supports finance and operations tables and entities.
(This is still smoking hot if you ask me.)
Dynamics 365 Finance
This release of Dynamics 365 Finance focuses on achieving rapid innovation through automation, creating high-performing teams that can work smarter with AI, optimize costs and take action faster with planning, forecasting, analytics, and insights.
Updates to Microsoft Dynamics 365 Finance 2023 release wave 2 include:
General availability of extended planning and analysis, which brings together operational and financial planning to continuously plan, act, and analyze.
General availability of business performance analytics, which streamlines financial reporting by centralizing data from multiple business processes in an easy-to-use interface.
Further enhancements to invoice capture and AP automation with a new AP clerk workspace and support for the invoice journal.
Enhancements to bank foreign currency revaluation, bank statement importing, and bank statement management.
Expanding country coverage to additional LATAM countries of Bolivia, Dominican Republic, Ecuador, Guatemala, Peru, and Venezuela.
Integration of Tax Calculation service with Project Operations and invoice registers, approvals, and pools.
Dynamics 365 Supply Chain Management
The investments in this 2023 release wave 2 focus on optimizing and enhancing business processes to provide companies with the agility and resilience needed to navigate an increasingly complex business environment.
The addition of compound charges, order classes, and advanced order holds increases the agility of the sales process.
New export control capabilities help companies manage compliance with export restrictions.
Businesses with sales processes spanning Dynamics 365 Sales and Supply Chain Management benefit from these being expanded to include the management of prospects.
A new, reimagined approval experience for purchase orders and purchase requisitions makes the approval process broadly accessible and increases the agility of the procurement process.
Manufacturers that need to comply with multiple inventory accounting practices across multiple currencies continue to benefit from enhancements being made to the Global Inventory Accounting Add-in.
Enhancements in material picking and handling last-minute manufacturing changes increase agility on the shop floor.
Increased efficiency of warehouse operations is driven by the optimization and automation of key processes related to counting, customer returns, product receipts, and the re-waving of orders.
New interfaces and streamlined processes allow companies to deploy Dynamics365 Supply Chain Management and use only the warehouse management capabilities, making these broadly available to companies using third-party ERP or order management systems.
Dynamics 365 Project Operations
For the 2023 release wave 2, Microsoft is delivering functionally rich experiences in the following areas:
Increase WBS task limits to 1000.
Improvements in pricing for labor using cost-plus and contribution-margin-based models.
Copy quotes, contracts, and opportunities across Legal Entities
Improvements to project budgeting to support revenue forecasting and summarization options when importing from estimates.
Progress-based billing projects.
Subcontracting to Purchase Order integration that will light up vendor retention and Pay-when-paid functionality.
Support for prospects on quotes.
Dynamics 365 Human Resources
For the 2023 release wave 2, Microsoft will focus will be on:
Improve recruiting experiences with functionally rich and intuitive experiences that target recruiters, candidates, and hiring managers.
Expand the HCM ecosystem to include learning management system integration through public APIs leveraging Dataverse along with expanding their payroll partner network.
Build better together experiences that cross the Dynamics 365 space.
Dynamics 365 Commerce
Key features for this release include:
AI innovation with copilot: Leverage the power of AI to create engaging product enrichment marketing content for e-commerce sites.
B2B investments: Distributors can view, accept, or reject orders, and buyers get a simpler, more streamlined signup experience.
Inventory and pricing: Real-time inventory status is now available across channels via integration with Dynamics 365 Supply Chain's Inventory Visibility Service to optimize sales and fulfillment.
Contextual and flexible dynamic pricing capabilities enable new targeted pricing strategies.
Localization: Streamline rollout of Store Commerce app in additional markets with deployment of localization features in Sweden and Eastern Europe.