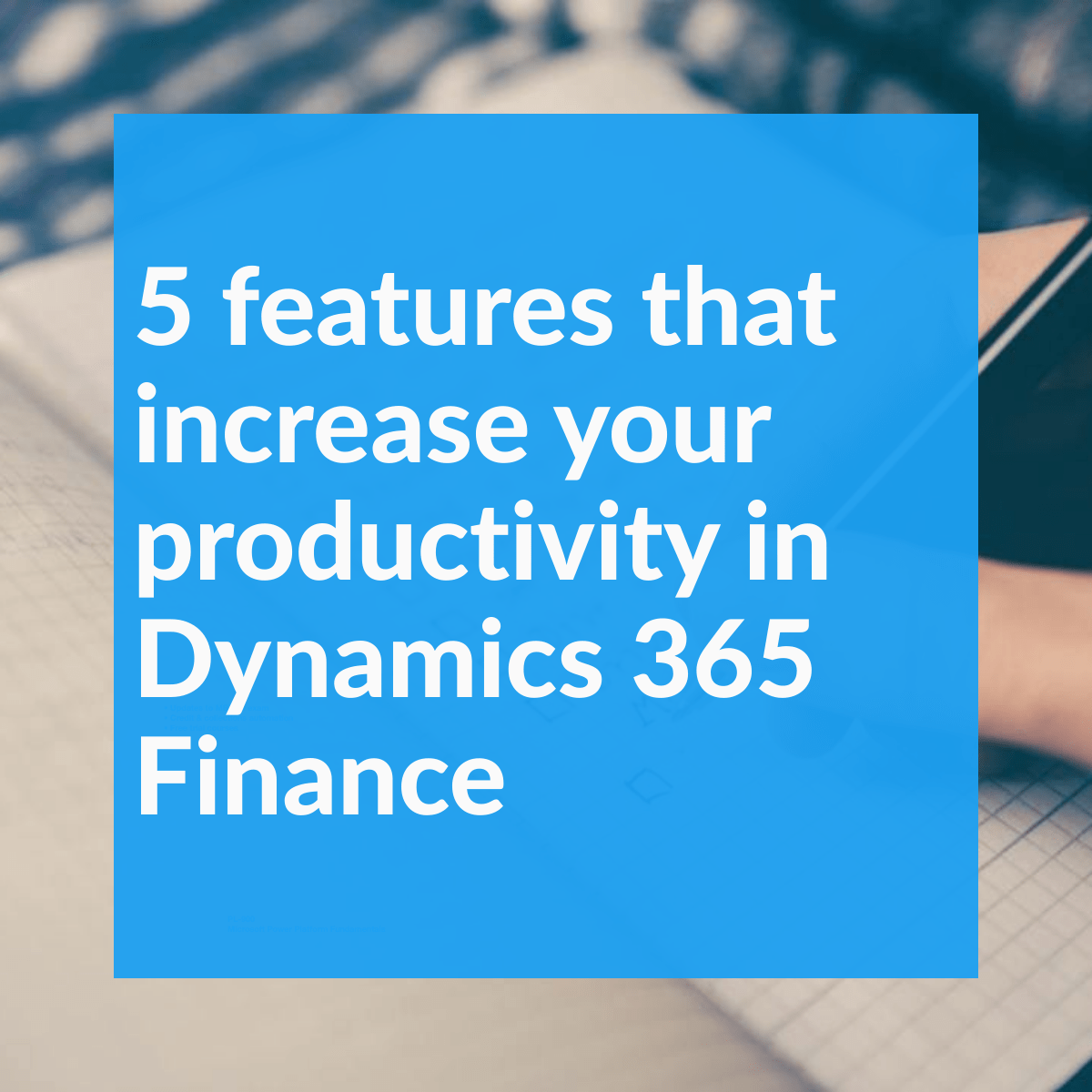 5 features that increase your productivity in Dynamics 365 Finance
Personalization including workspaces
Personalization can make Dynamics 365 Finance work better for everyone. When the user interface is personalized and doesn't contain irrelevant information it increases the user's efficiency. And now, there are increased ways of doing this.
Saved views is one of the best features when it comes to increasing your productivity. This includes both data filtering and visual personalizations (like hiding action pane options and data fields/columns, re-arranging and freezing columns, etc.); these changes are all included in Saved views.
You can have as many versions of a saved view screen as you'd like; you might want to hide some of the things from the action pane that you don't need right now and have a saved view that focuses on the task at hand. In order to work most productively, make sure the screen focuses on the things that you and your users would like to do, and hide areas that you are not interested in for now.
Pre-defined saved views – OOB
One feature Microsoft has included is some new pre-defined saved views that work out of the box; you just need to enable them in the Feature Management workspace: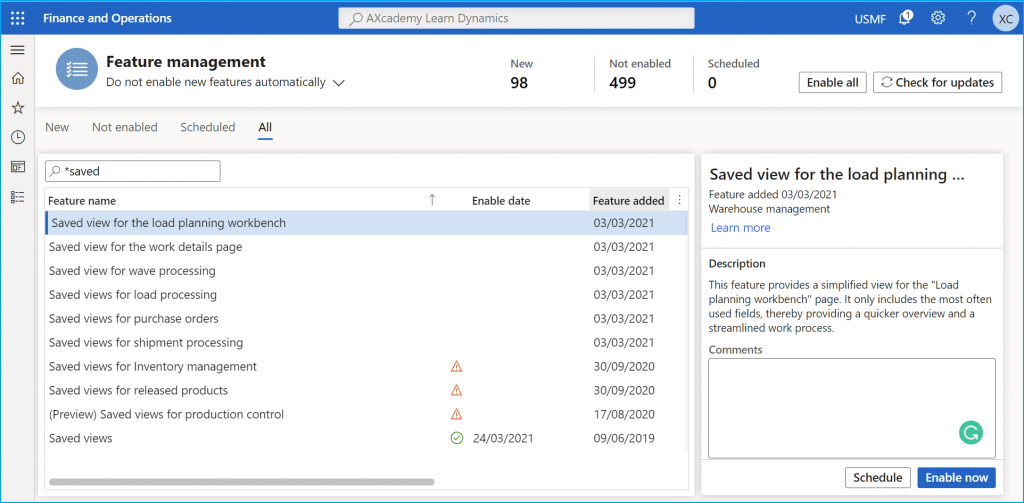 Workspace example: Financial period close
The Financial period close is one of my favourite workspaces for daily tasks. It reminds you what you need to do and then you can check the boxes once it's completed keeping track of your tasks. This is a global workspace that you can set up and then you are able to see what tasks need to be completed by different roles in your organization. Despite the name, it's not just for use for financial purposes, it can be applied to many different functions. You schedule tasks by periodically rolling out a template that shows what needs to be done and includes hierarchy etc.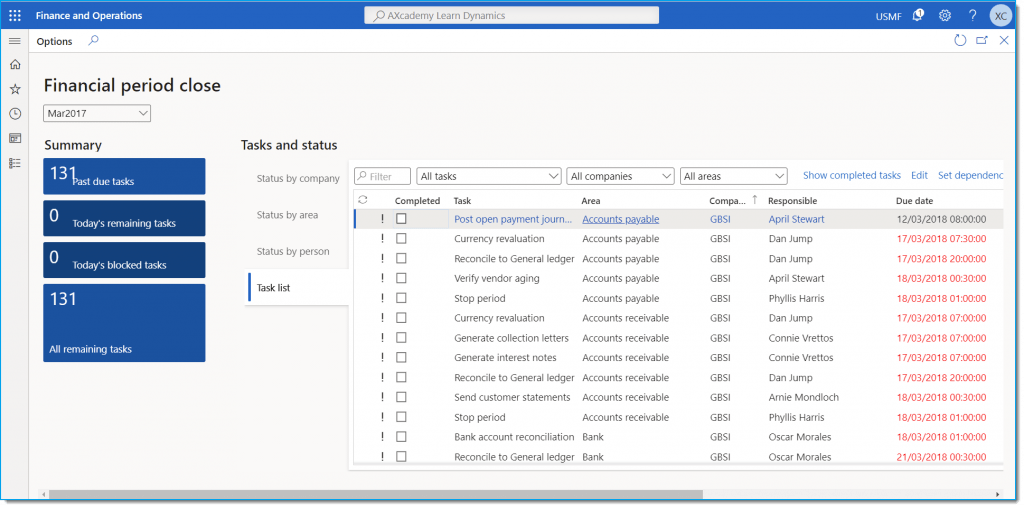 This is a brilliant tool for productivity and well worth exploring if you haven't already.
Don't miss our blog post How to create a new workspace in D365FO – and customize it
Excel Integration
Ensure you are using the integration with Excel to increase your productivity, this is something that isn't being used enough. The two-way Excel integration means you can use it to modify transactions, update entity data and create new transactions and then publish in D365FO. This integration with Excel is great, but don't just use it for transactions, explore using it for the business documents as you can modify invoices and other things too and use it to report on data.
Customer Credit Management
You can now keep on top of past, present, and future credit and include automated credit limits.
New Credit Management
There is a great opportunity for increased productivity in customer credit management. When you activate the new credit management functionality in the Feature Management workspace, you'll see 40 fields now, whereas before there were very few. Among other things, you can now automate a credit limit calculation based on various parameters.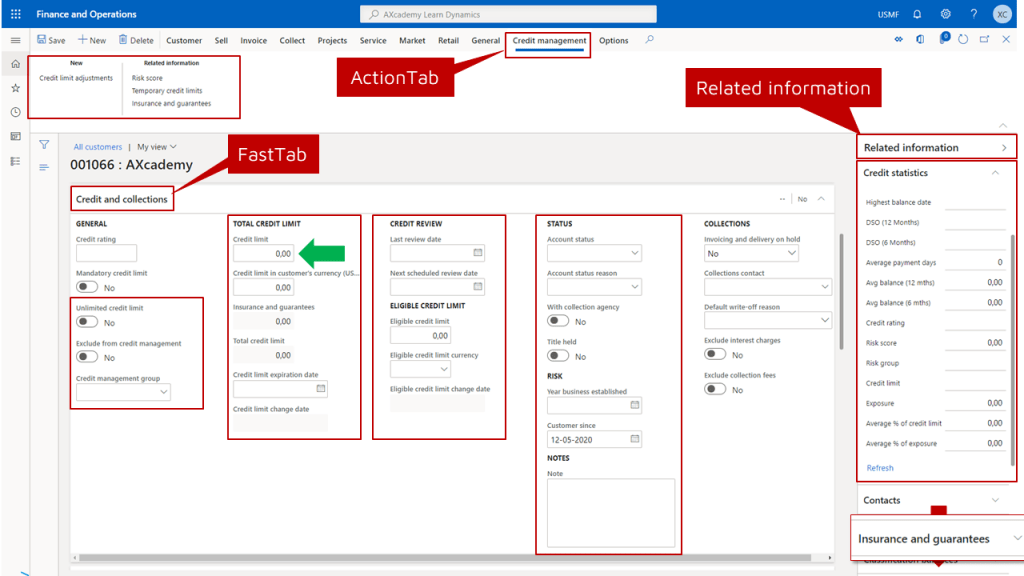 Collection Automation
However it's not just about setting credit limits, what about getting your customer to pay?
The collections process automation was recently added which is the process of identifying customer invoices that require an email reminder, a collection activity (such as a phone call) or a collection letter to be sent to the customer. Imagine, you could be on vacation and this is being taken care of. This is a great productivity driver for busy customer credit and collection teams.
Sales Order Holds
Automatic credit holds (order hold and releases) can be set up and orders can be held at 5 steps in the order to invoice process if the customer is violating the credit limit (orders will be automatically placed on hold if the blocking rules are triggered).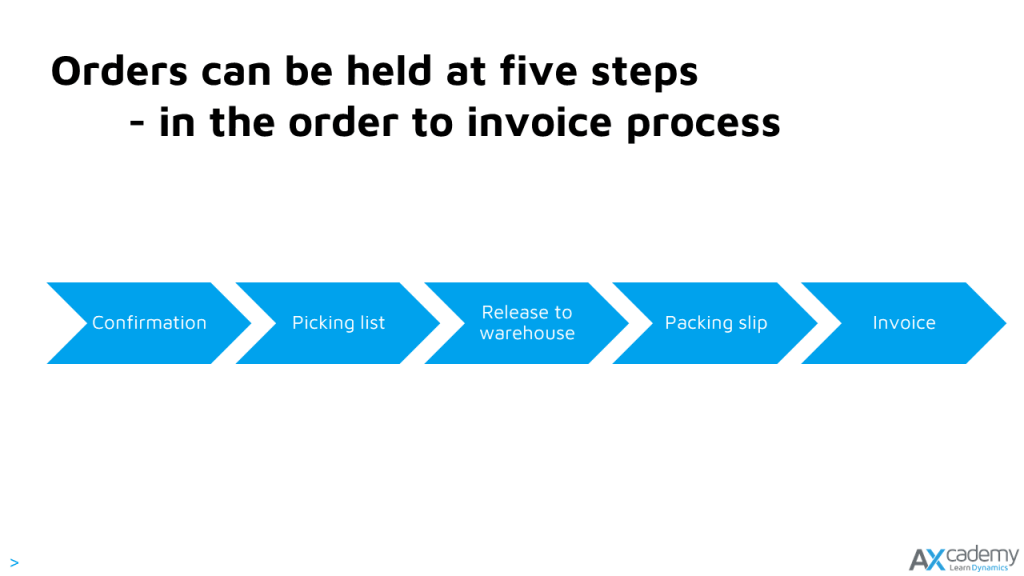 Orders are released from a global list of orders once the customer is below the credit limit and periodic batches can automatically release orders if the blocking reasons are mitigated.
Allocations, Accruals, Revenue recognition, and Templates
Reduce the burden of repetitive manual work and risk of errors by using allocations, accruals, and templates.
Allocation
Set up allocation terms on the main account; however, one downside of allocations is that it only calculates with percentages and can only distribute within the same legal entity. Allocation terms are simple to set up and use, but limited, and using them does create a lot of transactions.
Allocation rules are better, and there are different principles that can be used. You can allocate across multiple legal entities, you can create activity-based allocations and distribute budgets differently from month to month depending upon revenue activity or other factors. Allocation rules can be run manually or automatically..
Accruals
You can set up an accrual scheme that can be used for both revenue and costs (but be careful of your financial periods if they are not open). You can set how frequently the transactions occur, the number of times that transactions are created, and when the transactions are posted. You can then use the accrual scheme in some of the journals by using the Ledger accruals function.
Revenue recognition
Revenue recognition is pretty new, people have been asking for years for this feature, so it's a welcome addition. If you sell multiple elements, such as products, services, subscriptions, it allows you to break out multi-element orders so that revenue can be recognized based on a set of specific guidelines. Revenue recognition allows us to defer the revenue on the timeline or shift it among the lines and it's a great time saver.
The revenue recognition process can be used to perform these tasks on sales orders:
Allocate revenue – helps guarantee that the appropriate revenue price is recognized, based on the value of the components on multi-element orders.
Defer revenue – based on a revenue schedule that represents the contractual time frame and percentages for recognizing revenue over time.
An example of a revenue schedule would be here, for instance, if a sales order has 3 lines:
Line 1: posted immediately to revenue account
Line 2: posted once the service/installation has been done
Line 3: posted every month when delivering the service.
This could be run automatically or manually on these lines.
To use the features of revenue recognition there are lots of things you have to switch on by putting your Dynamics 365 environment into maintenance mode and then turn on the configuration key and then you will have the new module.
Please note that as of yet revenue recognition is for sales orders only, so it doesn't work on free text invoices.
Templates
The following templates are some of the templates or similar functionality now available to you which all help you to save time and are useful for when you are creating something similar time after time. You can create them for yourself or for others:
Record templates
Periodic journals
Free text invoice templates
Voucher templates
There aren't templates as such for Purchase orders, Sales orders, Fixed assets, Projects, etc., since these have a more complex data structure. Instead, you could consider copying and adapting these.
Alerts
Alerts were not part of D365 when it originally came out, but now we have them! Alerts are automatic messages triggered by something happening or not happening. For instance, you're waiting to receive goods from a purchase order, if the goods don't appear the alert can send you a message.
The alerts are on the action pane under options. However, if you want to ensure you're only running alerts on the group of records you want to, make sure you use filters before you go into the alert action pane.
Watch out for more automation based on predictions around collections and cash flow coming soon – we'll update you when this happens.
See a live presentation of some of these features
For a "live" presentation of some of these features, please head for our recorded webinar, available for free here