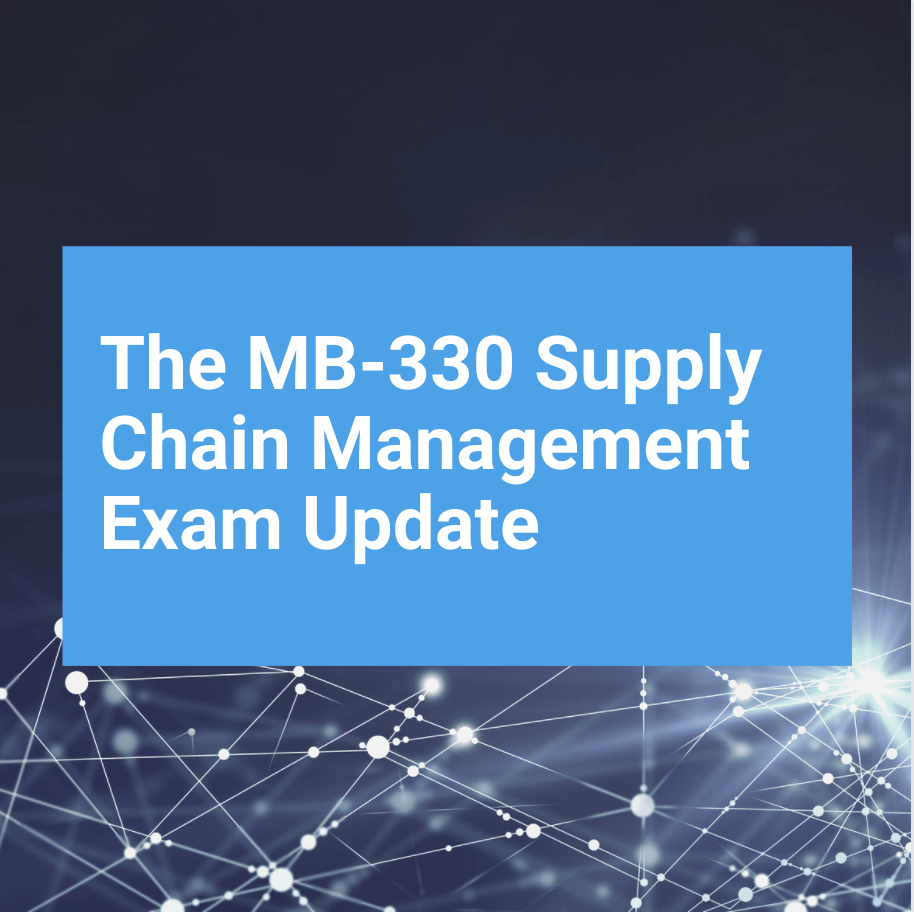 All about the MB-330 Supply Chain Management exam update 2021-12-10
The MB-330 Supply Chain Management exam was changed on December 10, 2021.
There have been a lot of smaller changes, nothing really big. The overall sections remain the same, but the weight between them has changed somewhat. For the better, I think…
Do note the new sections (groups of topics) however, supposedly areas of interest at the exam
Configure additional product details
Manage Orders.
Below are the most important changes, primarily mentioning new or removed things. Smaller changes, like renaming or topics moved between groups are not mentioned – or not mentioned in detail.
New means completely new in the exam details
Removed means completely removed from the exam details, not just moved between sections.
Implement product information management (Was: 25-30%. Is: 35-40%)
Create and manage products
New
Differentiate between bills of materials (BOMs) and formulas
Create and manage product states during the life cycle of a product
Create product attributes
Removed
configure catch weights
create a direct-delivery product
Configure prerequisites for products
Section name changed and some topics moved to the next section
New
Describe use cases for Item groups
(NEW) Configure additional product details
create and print labels, including product, wave, and license plate labels
create and assign bar codes and Global Trade Item Number (GTIN) codes
configure product unit conversions
configure default order settings
configure product filter codes
Manage inventory pricing and costing
New
Describe how price groups constrain pricing
Removed
Describe inventory costing methods
Implement Inventory management (Was: 15-20%. Is: 20-25 %)
(NEW) Manage quality
Configure and process nonconformances
Configure quality associations
Configure components for the quality control process
(Process quality orders)
(Process quarantine orders)
Apply inventory blocking
Create batch disposition codes
Implement and manage Supply Chain processes (Same: 15-20%)
Implement procurement and sourcing
New
Describe use cases for procurement workflows
Create purchase agreements
Create and process purchase orders that use change management
Configure vendor collaboration features
Create and process vendor returns
Removed
Configure change management processes
Implement common sales and marketing features
New
Describe how price groups link discounts to system tables
Describe sales order reservations
Configure sales agreements
Configure and process quotations, sales orders, and return orders
Configure quotations, sales orders, and return orders
Configure trade allowances and customer rebates
Removed
Configure and process inter-company trade relations documents
Implement warehouse management and transportation management (Was: 20-25%. Is: 15-20 %)
Configure warehouse management
New
Create and manage warehouse workers
Configure work policies and work break
Perform warehouse management processes
New
Describe the capabilities of the load planning workbench
Create cycle counting work (and Perform cycle counting)
Update inventory statuses
Removed
Process inbound and outbound orders
Implement Planning OptimizationMaster Planning (Was: 15-20%. Is: 5-10 %)
There have been just a few name changes.
Where to learn more?
Preparing to sit the MB-330 supply chain management exam is challenging. If you prefer remote learning, our on-demand (free trial available) and live online exam preparation courses have been developed by the experts to give you the best possible chance of passing.
An added benefit is the Microsoft official practice test is included so you can get a feel for the exam and practice before you take the real thing.
If you prefer to learn in 'real life' we also have in-person classroom courses available.
We're happy to talk through the options with you so that you ensure you get the best learning experience.