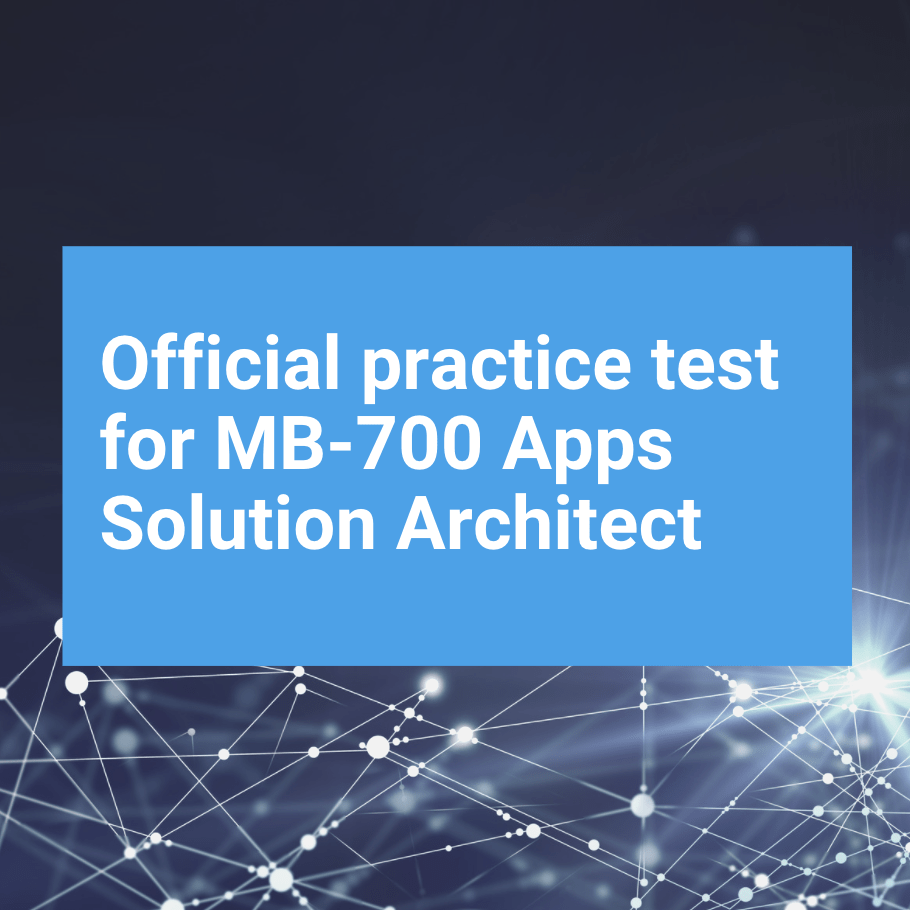 Official practice test for MB-700 Apps Solution Architect
​
About the online Microsoft Official Practice Test MB-700 Apps Solution Architect
Microsoft Official Practice Test
Detailed answers and references
Study and timed certification mode
Instant score report
The MeasureUp MB-700 Apps Solution Architect practice test is designed to help you prepare for and pass the MB-700 Apps Solution Architect exam and is is included with all our MB-700 training courses.
Candidates should have an existing knowledge of all Dynamics 365 apps and the Power Platform as well as knowledge of Finance and Operations apps and in one or more industry verticals.
They should be able to communicate efficiently with stakeholders who will provide business requirements. Microsoft Dynamics 365 professionals translate those requirements into secure, scalable, and reliable solutions.
This exam counts as a credit toward the following certifications
This test contains 105 questions and covers the following objectives
Architect solutions – 37
Define solution strategies – 30
Manage implementations – 29
Manage testing – 9
Why Choose the Microsoft Official Practice Test powered by MeasureUp
Quality test content is extremely important so that you will be prepared on the exam day.
They ensure that all objectives of the exam are covered in depth so you'll be ready for any question on the exam.
Their practice tests are written by industry experts in the subject matter. They work closely with certification providers to understand the exam objectives, participate in beta testing, and take the exam themselves before creating new practice tests.
Their quality content and innovative technology have earned the prestigious credential of Microsoft Certified Practice Test Provider.
Online performance-based simulations give hands-on work environment experience
Questions are similar to exam questions so you test your knowledge of exam objectives
Detailed explanations for both correct and distractor answers reinforce the material
Study Mode covers all objectives ensuring topics are covered
Certification Mode (timed) prepares students for exam taking conditions
Instant, drill-down score reports tell you exactly the areas to focus on.
Get More Out Of The MB-700 Official Practice Test 
The official practice test is included with all our MB-700 training courses. Used in conjunction with our expert developed classes, this resource will give you a very effective learning experience enabling you to pass the MB-700 with confidence.
Read more
Read more about the Official practice test for MB-700 Apps Solution Architect.