Top 15 new features D365 Supply Chain Management – Summer 2021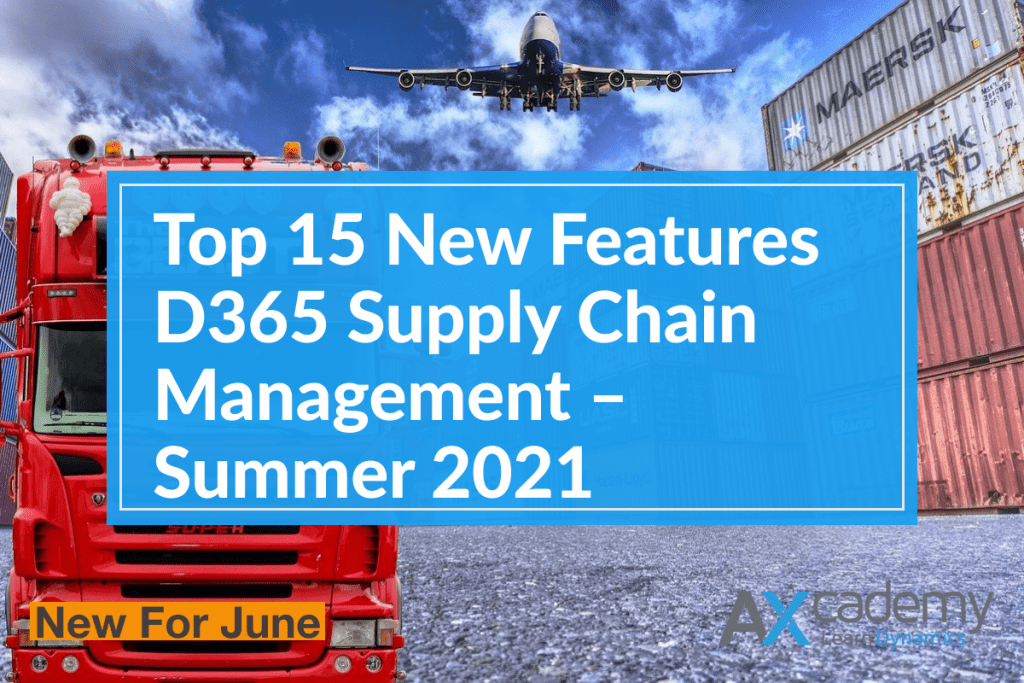 The D365 SCM 2021 release wave 1 plan, or officially known as What's new and planned for Dynamics 365 Supply Chain Management, is divided into five areas:
Asset Management
This release provides efficiencies and transparency for companies that use the capabilities of Asset Management Add-in for Dynamics 365 Supply Chain Management for performing maintenance on assets owned by their customers.
Inventory and logistics
New inventory and logistics features to help organizations gain visibility, resiliency, and efficiency in their supply chain.
Manufacturing
This release focuses on enabling customers to execute mission-critical manufacturing processes without interruption and at scale and on building resilience into key manufacturing processes.
Planning
This release focuses on introducing MRP II capabilities in the Planning Optimization Add-in, including infinite scheduling.
Product information management
This release brings incremental improvements to simplify the task of ensuring product master data is complete, to improve the performance of generating product variants, and for adding engineering.
Some of the new SCM features in detail
Where to start? There is really an abundance of fantastic features being added, high and low. Around 50 I believe, so below just some of my favourites so far – with a few personal remarks.
In Asset management
The Bill customers for maintenance work feature enables you to create, process, and bill maintenance work done on assets owned by your customers. This feature introduces capabilities including: Create maintenance work orders on assets owned by your customers. Register time, material, expenses, and fees when processing work on assets owned by your customers. Bill customers for maintenance work done on assets owned by those customers.
In Inventory and logistics
I am all in with Global Inventory Accounting Add-in for Dynamics 365 Supply Chain Management, as "Global" is always one of my main topics during training/workshops when pointing out improvements in D365FO over AX 2012. This feature provides a comprehensive solution that enables organizations (especially international organizations) to perform inventory accounting using multiple costing ledgers, thereby enabling them to comply with multiple accounting standards and internal management accounting at the same time.
The Inventory Visibility Add-in provides a single, organization-wide source of truth for inventory balances – "Global" once again! It is an independent microservice that is highly scalable, empowering high-volume retailers and manufacturers to manage millions of inventory updates every minute and gain real-time visibility to cross-channel inventory positions.
The Landed cost module enables you to define and track each segment of the goods-in-transit journey, beginning at the supplier's warehouse and continuing to the shipping dock, through the freight forwarder, to a landing dock and freight company, and eventually to the destination warehouse. With this visibility, arrivals are predictable, and warehouse planning and efficiency are improved.
The new design concepts used in the Warehouse Management mobile application are based on extensive usability studies including a broad worker population. The new design includes features to improve worker efficiency thru improved app ergonomics. Work even with gloves on, so to speak. As the mobile application is in high use in warehouses, this is a very welcome set of improvements!
The Rebate management module is updated to make it easier to use for handling the rebates and royalty processing. The rebate management module tracks and maintains rebates and deductions transactions in a central location, where all relevant users can create, review, and process them effectively.
And finally, a curiosity, at least to me: An improvement to Sales quotations – when did this last happen? I almost thought it was a bit like abandonware. Anyway, useful it is if you do in fact make use of Sales quotations: Lookup functionality for Document introduction and Document conclusion fields.
In Manufacturing
Asset Management capabilities in the production floor execution interface. I guess that this could/should also be listed under Asset Management. Anyway, this feature adds an Asset Management tab to the production floor execution interface. It lets workers select an asset and then view the state and health of that asset by reading values for up to four selected counters, lists of recent maintenance requests, and lists of registered downtimes.
Though Saved views for production control is not really a production-specific thing – rather a UI thing to me – I have listed it. I am so much into making everyday life easier for users and adapting screens to make things simpler is big with me. So now, Microsoft has added simplified views in this module, too. By the way, please don't miss the other modules' out-of-the-box Saved views added with earlier updates. (Spoiler alert: more about Saved views later).
Another UI thing is the feature Enhanced production floor execution interface for manufacturing. The feature enables workers to search and filter the job lists when using the production floor execution interface. Manufacturers can also configure the interface to support only clock-in and clock-out registrations.
A bigger thing – in every way, I guess – is the feature Manufacturing execution with scale units in the cloud. This helps to improve the resilience of your manufacturing processes by extending your cloud hub with cloud-scale units that run manufacturing workloads. Each manufacturing workload takes ownership of certain manufacturing execution-related data and processes at a selected site.
Down the same path, we have the feature Manufacturing execution with edge scale units on your custom hardware. Edge scale units operate independently from the hub and allow production facilities to remain operational even during a connectivity failure. Maintenance can be scheduled independently of cloud instances. Workers using computers and hand-held devices connected to the edge scale unit will have the same capabilities as when working against a cloud-scale unit.
And Power Automate indeed becoming a helping hand here too. The Invoke process automation flows to create quality orders feature uses Microsoft Power Apps or Internet of Things (IoT) sensor signals to invoke a Power Automate flow to drive business processes. It includes a template for the event-driven creation of quality orders on manufactured items. To me, this is a great addition to the fairly limited options in the automatic creation of Quality orders – using the standard D365FO Quality Association configuration. One of the things that spring into my mind is random sampling.
In Planning
The Planning Optimization has been improved in a lot of areas. Just to mention some names here (as the names do tell most of the story). Support added for all of the following: Coverage time fence, Purchase requisition, Forecast submodel, Schedule with infinite capacity, and finally Reorder margin and issue margin.
A nice improvement is the Planned order firming with filtering feature. It lets you establish logical criteria for selecting which planned orders to firm. You can also preview which planned orders were selected, run the process in the background, or schedule it as a batch job.
Yep, I am at it again: Saved views for planned orders. Same reasons as mentioned for the Saved views for production control.
In Product information management
It was about time that Product readiness checks are now going to be available to all products (not just for engineering products). Product readiness checks are sets of automatic or manual checks that ensure that each product is set up with all the required data before it is used in transactions. Readiness checks are grouped into readiness policies which are then applied to a specific product or a group.
My favourites – perhaps not yours
These 15+ features were my favourites at the time of writing. I might change my mind, and add more later.
Do you agree with my list and comments, or would you rather have listed some of the other 30+ new features? Please comment below!
Free webinar
AXcademy training lead Finn recently ran a webinar The New Dynamics 365 Supply Chain Management Features Due Summer 2021.
If you'd like to watch the replay you can get it here.
Top 10 new features Dynamics 365 Finance – Summer 2021
You might also be interested in our blog post about new Finance features – Summer 2021. To read, please click here