MB-340 Commerce | D365 | Online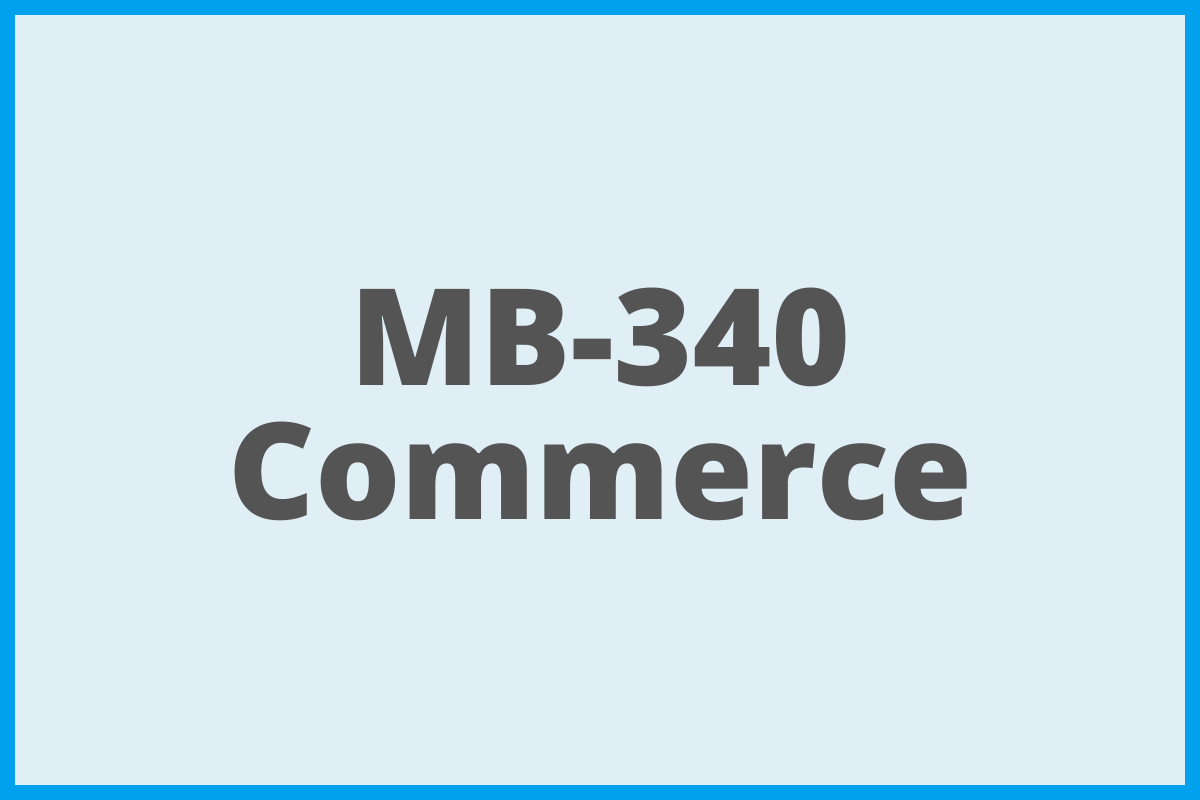 This 5-day course covers the essentials for the role of Dynamics 365 Commerce functional consultant.
Set up and use the application functionality in Microsoft Dynamics 365 Commerce, and provide support for the application.
This course will include lectures as well as hands-on labs.
There are no upcoming events.
Job role: Functional Consultant
The audience for this course is either:
a Dynamics 365 consultant who wants to learn Commerce, or
a retail analyst with core Dynamics 365 experience who wants to apply their skills to the Dynamics product family.
The functional consultant typically has a strong understanding of unified commerce business operations, and experience configuring, deploying, maintaining, and using Microsoft Dynamics 365 Commerce.
Prerequisites:
Before attending this course, students should have:
Core Microsoft Dynamics 365 skills (equivalent to our course MB-300 Core)
General understanding of Commerce principles
Level:
200 (Intermediate).
This 5-day course covers the setup and use of the application functionality in Microsoft Dynamics 365 Commerce, and how to provide support for the application.
There will also be time to discuss which tools are a priority for you in your role.
You will learn:
Configure Dynamics 365 Commerce Headquarters
Configure products, prices, discounts, loyalty, and affiliations
Manage Point of Sale (POS) in Dynamics 365 Commerce
Configure and Manage Dynamics 365 Commerce call centers
Manage e-commerce.
Course Outline
Module 1: Get started with Dynamics 365 Commerce
Introduction to Unified Commerce platform
Dynamics 365 Commerce architecture
Deployment of Dynamics 365 Commerce
Hardware and peripherals
Module 2: Configure Commerce Headquarters
Configure prerequisites and Commerce parameters
Configure and maintain payment processing
Configure Commerce Data Exchange (CDX)
Configure delivery modes and charges
Configure and work with statements
Module 3: Products and Merchandising
Product information management
Merchandising in Dynamics 365 Commerce
Product recommendations and product discovery
Module 4: Retail Pricing
Manage Pricing
Manage discounts and promotions
Module 5: Loyalty and customer experience
Customer Management
Loyalty and affiliations
Module 6: Point of sale
Introduction to POS
Channel Setup
Configure Cash and Shift management
Worker Setup
Point of Sale Setup
Customer management at POS
Transaction processing
Inventory processing
End of day processing
Reporting
Configure and work with Task management
Test POS
Maintain registers and devices
Localization
Module 7: Configure and work with call centers in Dynamics 365 Commerce
Configure channel
Configure Product Catalogs
Configure Order Holds
Create call center orders
Configure call center directed selling
Configure Returns and Refunds
Configure continuity orders and installment billing
Module 8: Work with E-Commerce in Dynamics 365 Commerce
Describe e-commerce core capabilities
Configure an E-Commerce Channel in Dynamics 365 HQ
Configure an E-Commerce site
Configure and manage E-Commerce site content
Describe & Demonstrate digital asset management
Configure business-to-business (B2B) site
Configure Ratings and reviews functionality
Demonstrate E-Commerce Order Processing
Module 9: Manage order fulfillment and inventory in Dynamics 365 Commerce
Configure and work with Stock replenishment
Configure and work with Order fulfillment
Module 10: Work with Dynamics 365 Fraud Protection
Overview of Dynamics Fraud Protection
Describe Dynamics Fraud Protection Services
Configure and work with Dynamics Fraud Protection with Dynamics 365 Commerce
The price for this course includes training manuals and a training environment.
Training manuals
Microsoft Official Courseware (MOC): Microsoft Certified: Dynamics 365 Fundamentals Finance and Operations Apps (ERP).  This electronic document is hosted on Skillpipe, yours to keep "forever", and can even be downloaded for offline use.
Training environment
During the training, each student will have access to their personal copy of a Microsoft Dynamics 365 Finance and Operations apps training environment (VM), available for 180 days.
Additional info
You will benefit from learning from a world-class Microsoft certified trainer with extensive real-life technical experience in D365FO apps and earlier versions of AX.
Small class sizes, of up to 10 students for the optimum learning environment.
Not included
Travel
Stay
Any exams