ExFlow Processes & Use | Associate | Online
August 24 @ 09:00

-

August 25 @ 16:00

UTC+1

1,199$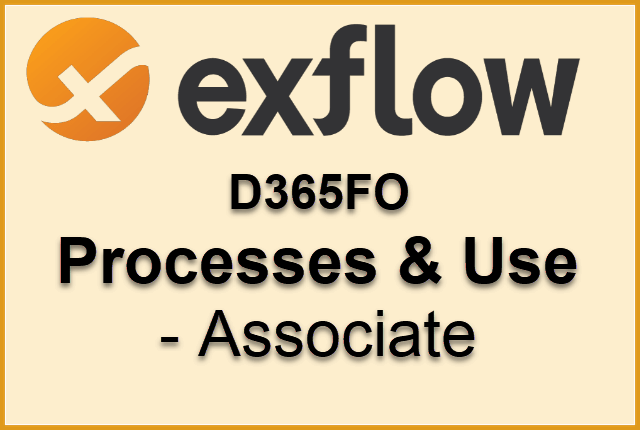 During this 2-day course, you will learn how to manage the advanced processes and use the advanced features of SignUp Software's ExFlow app.
Users and consultants who want to get a detailed understanding of the processes in and use of ExFlow.
Prerequisites:
Before attending this course, students should have:
General knowledge of Microsoft Windows
The ability to use Dynamics 365 for Finance and Operations for basic processing and navigation
General knowledge of Accounts Payable invoice processing.
Participated in the ExFlow Academy course Processes & Use – Fundamentals (or otherwise have obtained the same skills)
Level:
200 (Associate)
During this 2-day course, you will learn the topics listed below in the course outline.
There will also be time to discuss which tools are a priority for you in your role.
You will learn the following:
How ExFlow works
How ExFlow differs from standard D365FO AP invoice processing
Daily use
Inquiries and reports
Periodic tasks
Setup and use of purchase order invoice on the arrival of goods
Course outline
How ExFlow works
How ExFlow differs from standard D365FO AP invoice processing
Daily use
Import invoices

All import invoices
Edit/view imported invoices

Suggest approvers with logging

Purchase order invoices

Lot ID and Purchase Order Matching
Charges

Manage and approve invoices (document form)
Document form All
Edit/view invoice distributed for approval

Invoice history
Line history

Chat function

Document form
Approval form
ExFlow web

My vendor invoices

Search invoices
Approving and changing accounts in the ExFlow approval form

Approve, Reject or Hold an invoice line
Split lines
Add one or more new approvers

Post control
ExFlow vendor invoice management workspace

Workspace tab
Analytics tab
Inquiries and reports
Import history
Attachment form
Invoice history and matching details
Invoices
Invoices per company
External integration form
Matching results for purchase invoices
Imported invoice history
ExFlow vendor aging report
Logging
Periodic tasks
Import OCR invoices to import form
Process attachments
Import invoice XML files (Multiple methods)
Create a journal for the accrual of estimated costs
Invoice register vendor invoices
Final posting

Cost account invoices
Purchase order invoices

Auto-match purchase order invoices on the arrival of goods
Auto get purchase order lines in Import form
Escalation
Suggest approvers
Broadcast email
Upload vendor information to ExFlow Data Capture (Multiple methods)
Generate graph data
Update invoice image URL
Upgrade invoice image for historical data
Update invoice date
Auto Generate Self-billing invoices
Log clean up
Import history data clean up
Setup and use of purchase order invoice on the arrival of goods
Introduction
Invoices with a quantity variance
To manually handle quantity variance
Batch job Auto match purchase order invoice on the arrival of goods
Settings
Process
The price for this course includes training materials, a training environment, and a certification exam.
Training materials
ExFlow User Manual
Extra materials:
Hands-on labs/exercises
Presentations
Examples
Invoices
Training environment
During the training, each student will have access to their personal copy of a high-quality training environment. It is a complete Microsoft Dynamics 365 Finance and Operations apps training environment (VM) – with ExFlow training configuration and demo data on top of the familiar Microsoft standard Contoso demo data. It is available during your class and optionally also after the class.
Additional info
You will benefit from learning from a world-class Microsoft certified trainer with extensive real-life technical experience in D365FO apps and earlier versions of AX.
Small class sizes of up to 10 students for the optimum learning environment.
Live online course sessions are recorded and available for 30 days after the course has finished.
This course is recommended as preparation for the Certification exam ExFlow Processes & Use | Associate.
This ExFlow certification exam is available at the end of each course. If you pass, you get a digital certificate as proof.