Global attributes
Dynamics 365 Finance enables organizations to operate worldwide by supporting multiple currencies, language translations, jurisdictions, compliance regulations, and infinite dimensions.
In today's global market, businesses might receive and send payments using different currencies. There are two types of currencies in Dynamics 365 Finance. The main currency that the organization uses is called the accounting currency. Often, however, they will need to report recorded financial transactions in a different currency, which we know as the reporting currency. The reporting currency can be repurposed and used as a second accounting currency. This is referred to as dual currency.
With Dynamics 365 Finance, organizations can convert currencies and post transactions in currencies other than the one the order was completed in. They can recognize jurisdiction and compliance based on locality. And the user interface (UI) can display different languages depending on the personal settings of users.
Multicurrency functionality may be used if an organization does business in more than one currency. If your organization has multiple legal entities and transacts in multiple currencies, then maintaining currencies and their corresponding exchange rates is essential.
General ledger
The General ledger module is the core of Dynamics 365 Finance. It is integrated with other sub ledgers in the financial management, so each department can manage its own books (sub-ledgers) without disrupting the general ledger. It provides an organization with a central location to organize and manage all of the organization's financial records. The account information is then used to prepare the organization's financial statements.
Organizations use the General ledger to define and manage the legal entity's financial records. The general ledger is a register of debit and credit entries. These entries are classified using the accounts that are listed in a chart of accounts. Organizations can adjust to changing financial requirements with a flexible, guided, rules-based chart of accounts, financial dimensions, and global tax engine and they can efficiently track values and reduce reporting errors with centralized, automated processes for managing their capitalized assets from acquisition through disposal.
Incorporating a shared chart of accounts across legal entities enables organizations to streamline main reporting and the intercompany and consolidations business processes.
The following figure illustrates the typical General ledger processes of a business: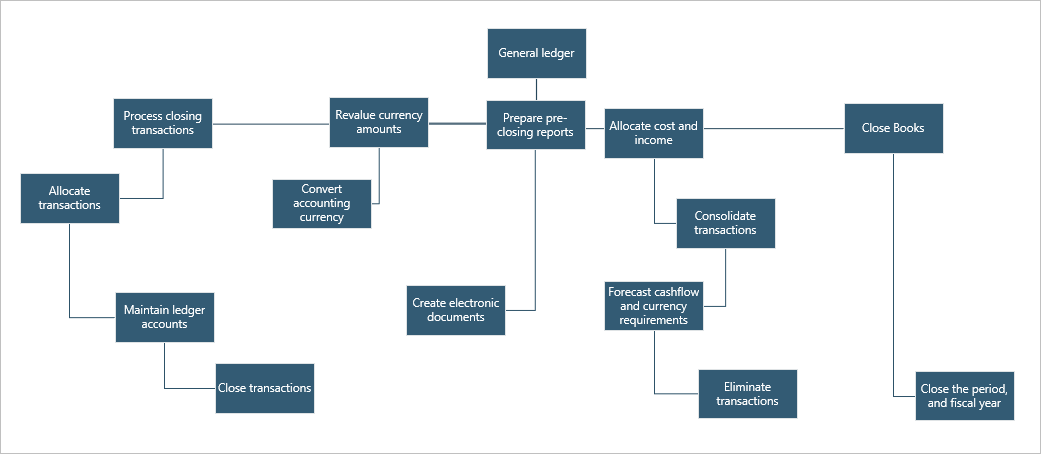 Accounts payable
With Dynamics 365 Finance Accounts payable, financial leaders can distribute expenses, taxes, and charges across accounts. They can manage their vendors, purchase orders, discounts, transactions, and invoices to reduce liability and generate greater income. They can manage vendor invoices and automate their review or payment.
The following figure shows typical Accounts payable business processes in an organization: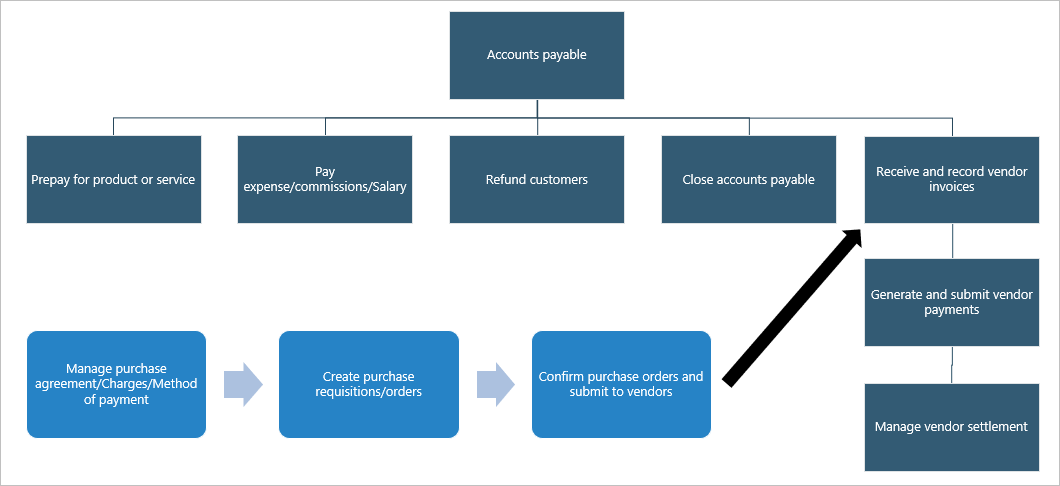 All invoices and payment transactions are recorded in the General ledger. The payable clerk matches the purchase order to the recorded invoice to see if the vendor invoice is qualified to be paid. When the invoice is due, the payable clerk generates the payment, which is reflected in the general ledger and impacts the cash and bank management.
Financial users can efficiently assign purchase orders, discount groups, payment, options, vendor holds, and more to their vendors and vendor group records. They can also create and manage transaction records with purchase orders, product receipts, and invoices. And, while creating and managing invoices, they can keep an eye on invoice approval, payment proposals, and invoice matches.
Organizations can record vendor invoices manually or receive them electronically through a data entity. They can use invoice matching, vendor invoice policies, and workflow to automate the review process so that invoices that meet certain criteria are automatically approved, and the remaining invoices are flagged for review by an authorized user.
By meeting industrial and regional compliance standards, Dynamics 365 Finance helps finance teams meet compliance requirements for e-invoicing. By defining how the invoice data is put on the e-invoice, business parties can understand the document in the same way.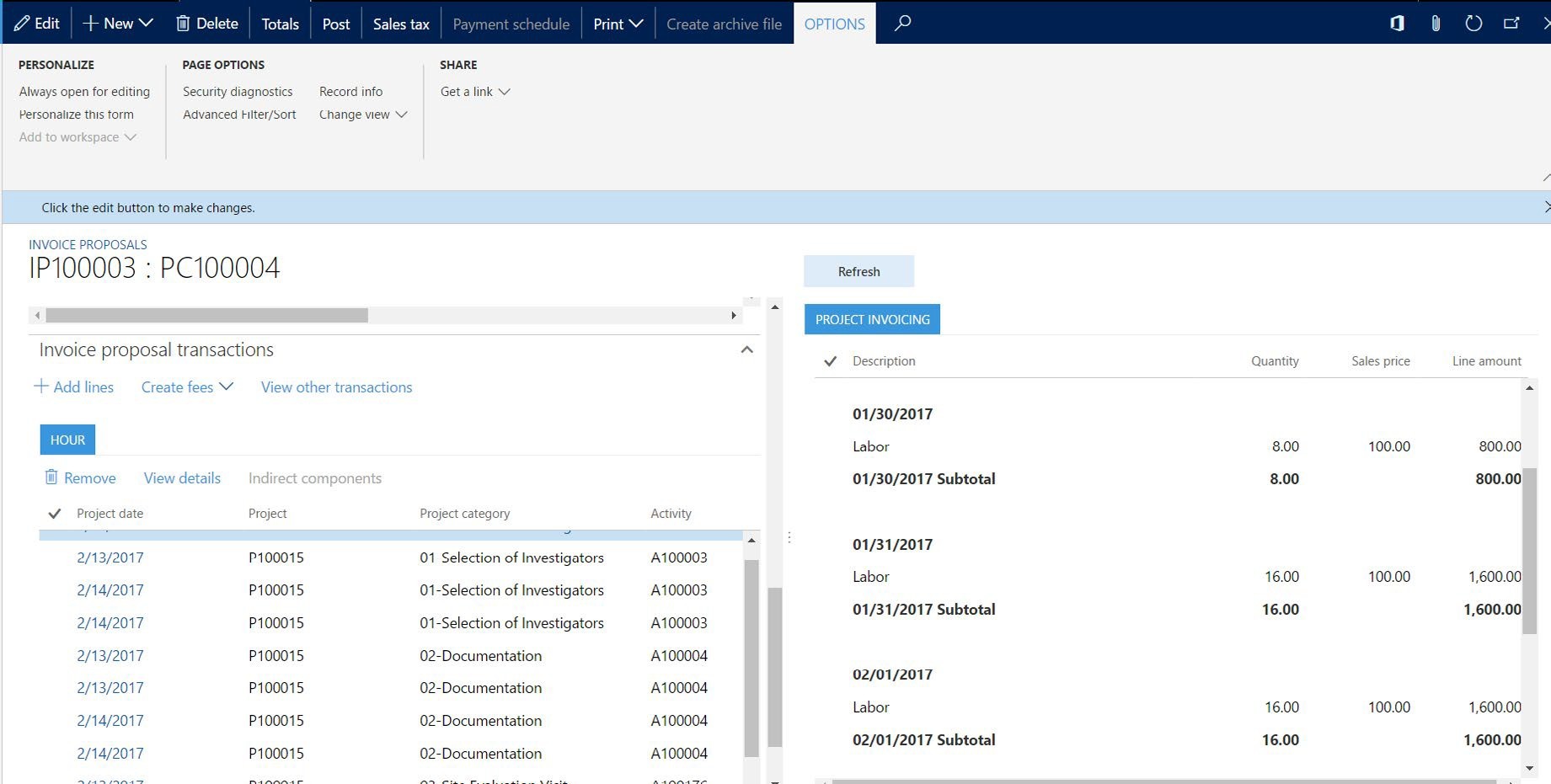 Organizations that want to streamline their Accounts payable (AP) processes often identify invoice processing as one of the top process areas that should be more efficient. In many cases, these organizations offload the processing of paper invoices to a third-party optical character recognition (OCR) service provider. They then receive machine-readable invoice metadata together with a scanned image of each invoice.
Dynamics 365 Finance vendor invoice automation is enabled out of the box.
Dynamics 365 Finance centralized payments enable organizations with multiple legal entities to create and manage payments to their vendors by using a single legal entity that handles all payments. Therefore, the same payments don't have to be entered into multiple legal entities.
Accounts receivable
The Dynamics 365 Finance Accounts receivable module enables organizations to track customer invoices and incoming payments. They can create and manage customers, invoice sales orders, and incoming payments while completing the daily tasks in accounts receivable.
They can also invoice customers using free text invoices, recurring invoices, and batch invoices. When they receive a customer payment, they map it to the correct invoice.
They can receive payments using several different payment types, such as bills of exchange, cash, checks, credit cards, and electronic payments.
Dynamics 365 Finance centralized payments enable organizations with multiple legal entities to create and manage payments from their customers by using a single legal entity that handles all payments.
Therefore, the same payments don't have to be entered into multiple legal entities.
The following figure shows typical Accounts receivable business processes in an organization: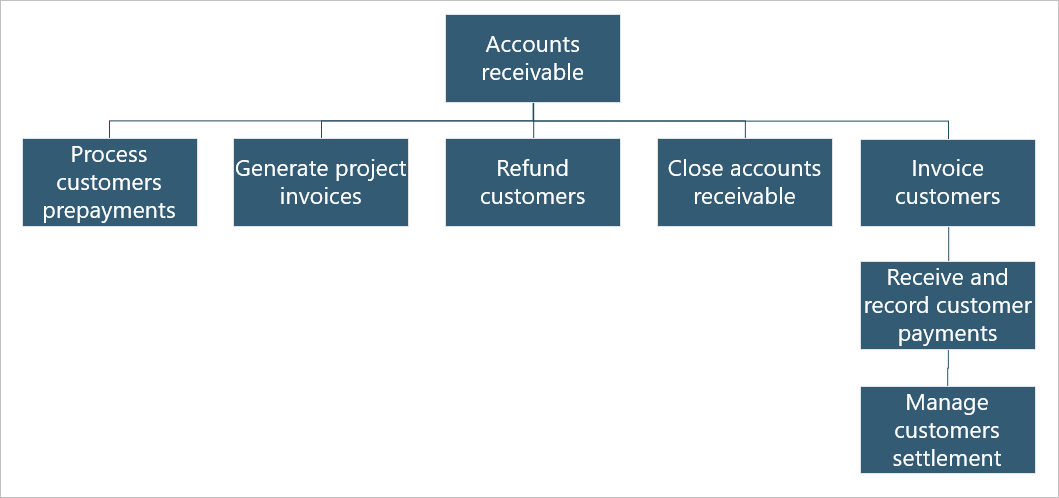 Credit and collections
A common challenge for CFOs is predicting when customers will pay. Slow and inconsistent payments restrict cash flow and inhibit both long term planning and daily performance. The Credit and collections functionality in Dynamics 365 Finance predicts when invoices will be paid based on a multi-tiered historical analysis. This helps organizations get their receivables collected on time and reduce the cost and effort of manual collections management.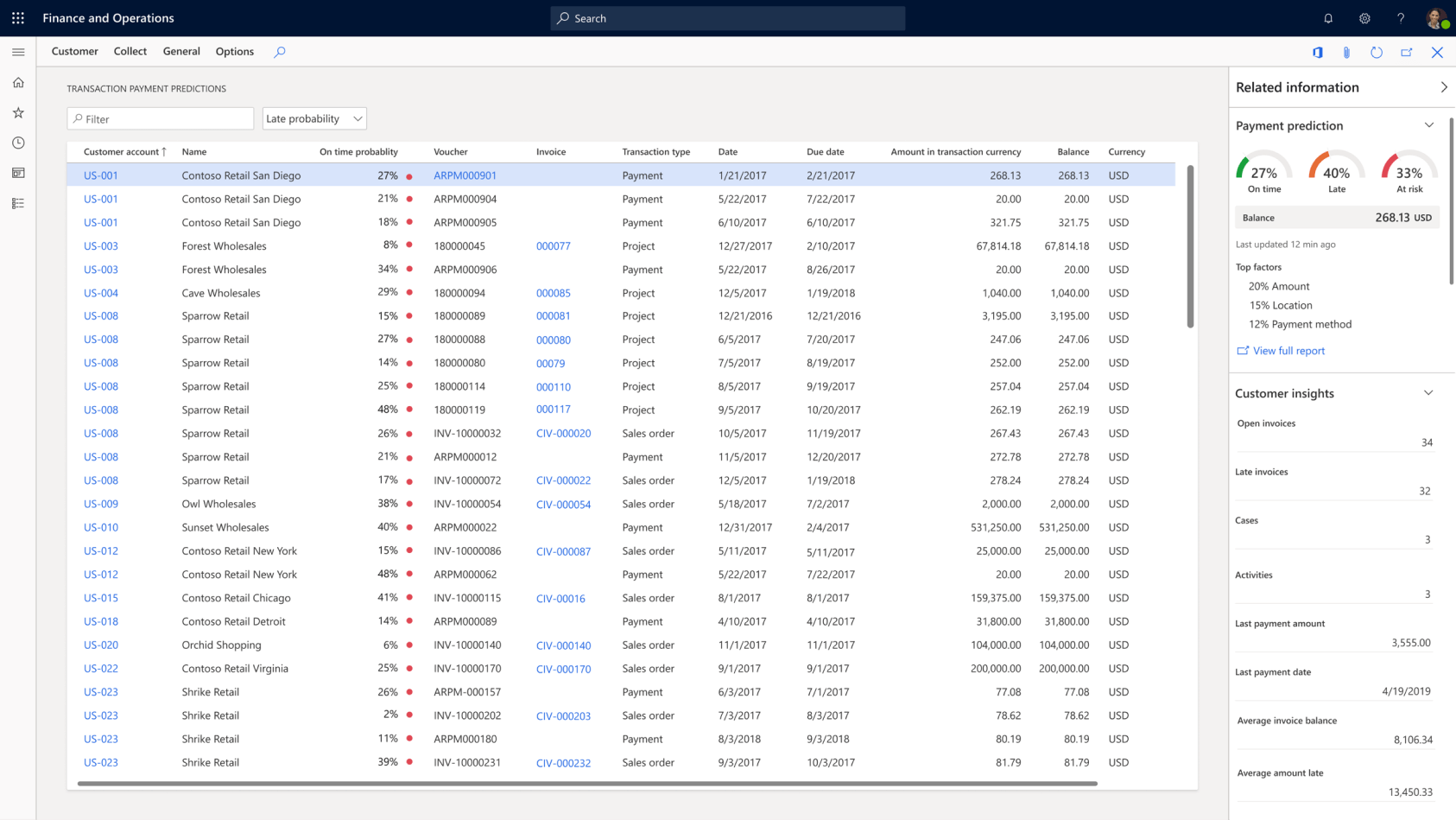 Organizations can track and manage the complete lifecycle of credit and collections, from generating customer account statements, 360-degree visibility of customer aging data and overdue balances, automating customer communication, and finalizing write-offs.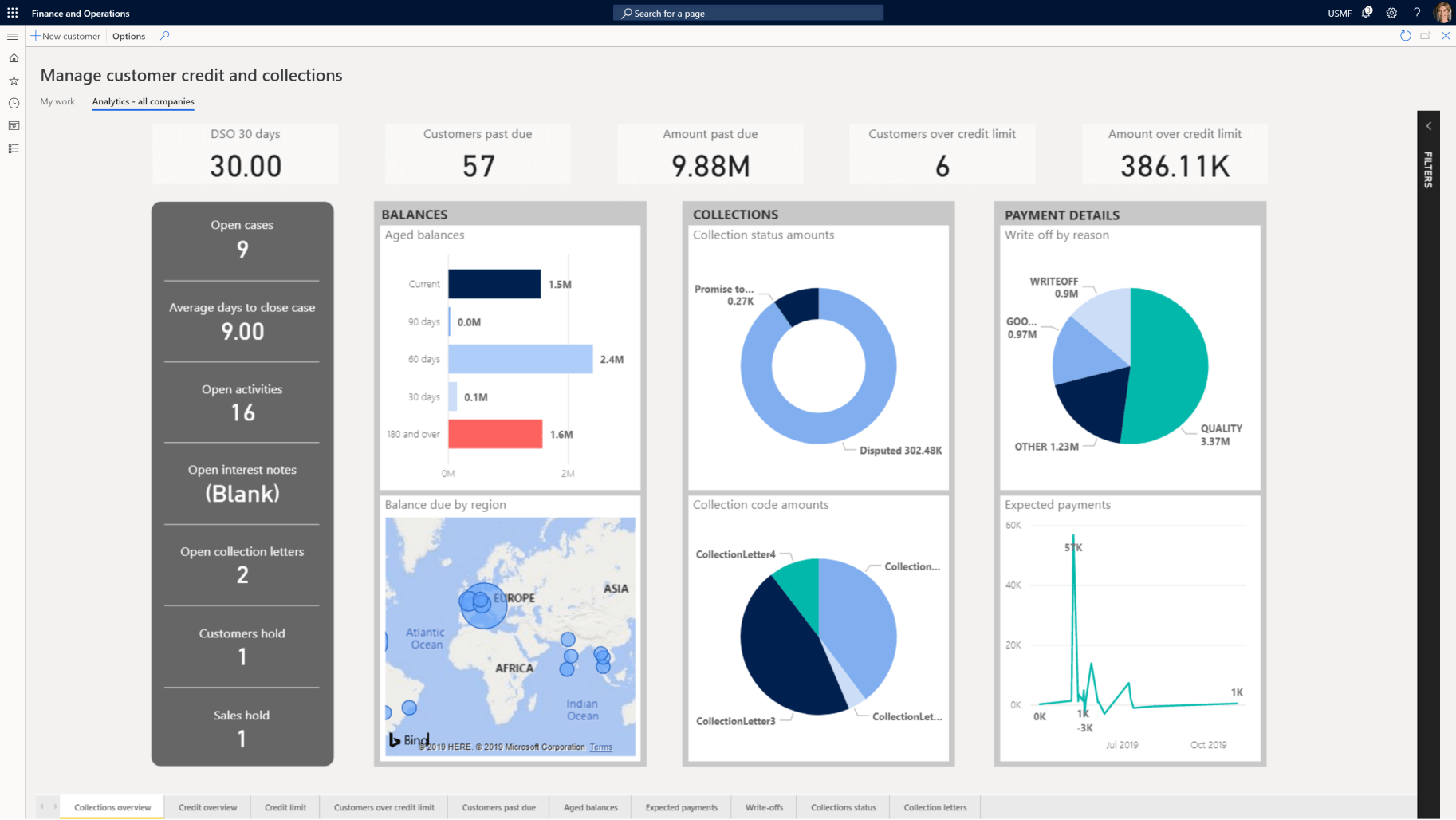 CFOs and financial managers can better allocate funds and spot credit risks before big orders ship. They're equipped with effective strategies to get paid in full and on time. They can collect revenue faster because the money is processed faster.
Accounts receivable collections information is managed in one central view using the Dynamics 365 Finance Manage customer credit and collection workspace: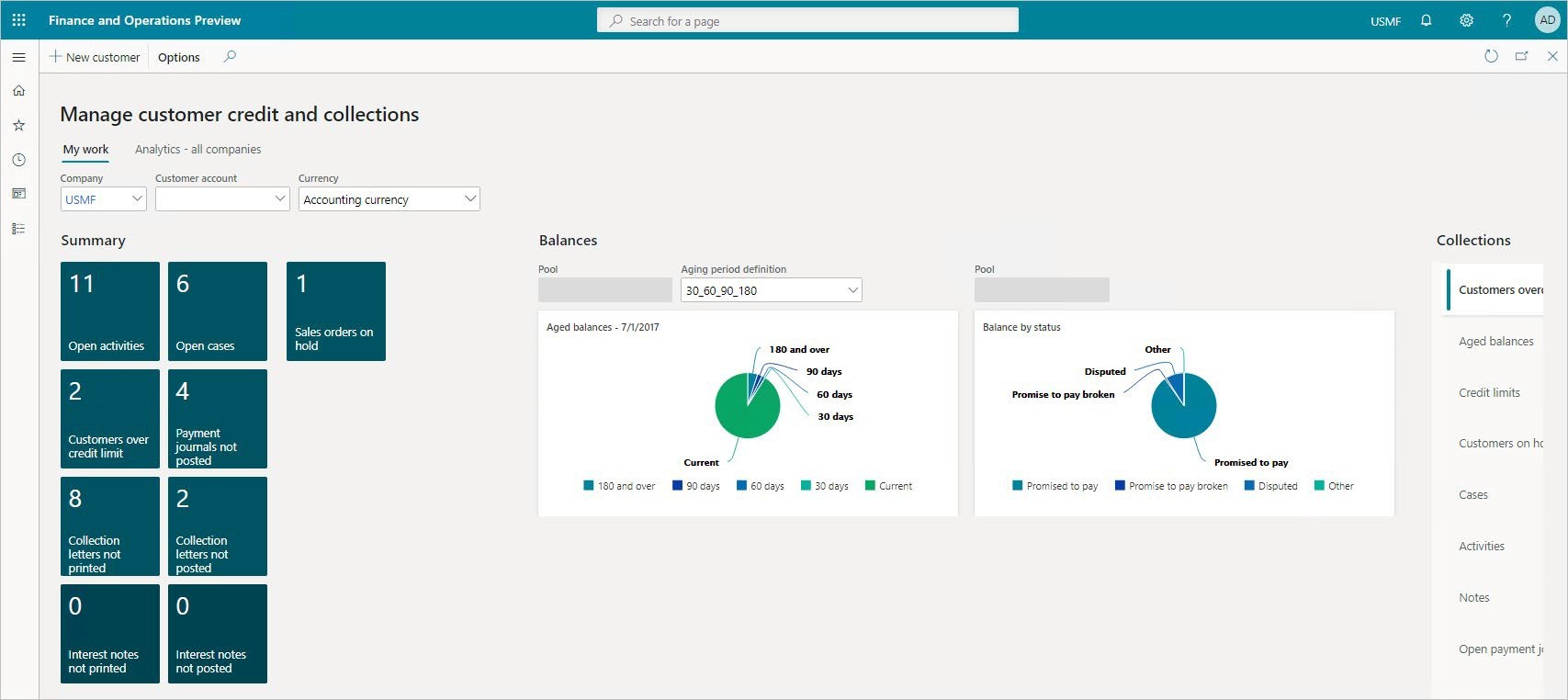 Credit and collections managers can use this central view to manage collections. Collections agents can begin the collection process from customer lists that are generated by using predefined collection criteria.
Budgeting
With proper budgeting processes, organizations can benefit from forecasting and financial insights to compare actuals against the allocated budget.
The Dynamics 365 Finance Budgeting module gives the ability to finance leaders to properly estimate the total financial requirements by determining the operating requirements, and the fixed capital and working capital requirements of the company.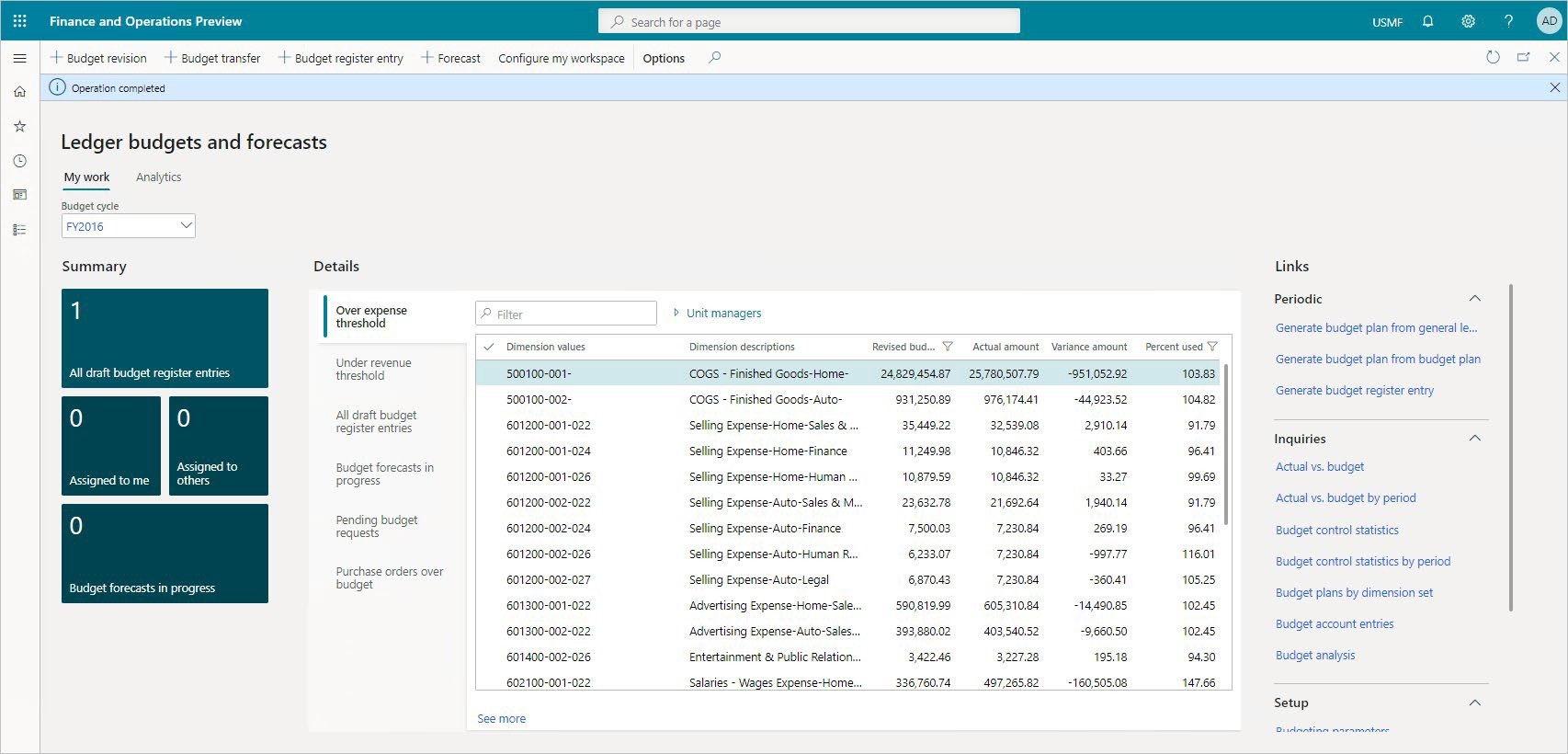 The resource planning cycle for an organization typically consists of planning, budgeting, and forecasting activities. Dynamics 365 Finance supports the processes for both long-term strategic planning, quarterly, and annual budget planning.
Budget managers use the Budgeting module in Dynamics 365 Finance to create and assign budget codes, allocate funds, and plan for the future.
Organizations can reduce operational expenses by minimizing operational costs across business geographies with financial process automation, encumbrance, budget planning, and budget control.
After a budget is established and approved in Dynamics 365 Finance, budget managers convert the budget plan to a budget register entry. Budget register entries provide tools for maintaining the budget and for keeping amounts traceable through budget codes.
Budget register entries let budget managers revise original budgets, perform transfers, and carry forward budget amounts from the previous year. Based on the established budget, organizations can enable budget control. The level of control depends on the organizational culture and the organization's level of maturity.
Finally, organizations might establish an organizational culture where employees are educated about organizational targets and follow those targets through policies such as "Consider online meeting instead of a travel."
Dynamics 365 Finance includes a budget control framework that lets the budget managers select either hard control which prevents postings that would go over the budget), or soft control (where users are warned that they will exceed the available budget funds but can decide for themselves how to proceed).
Dynamics 365 Finance budget control supports management of an organization's financial resources through the chart of accounts, workflows, user groups, source documents and journals, configurable calculation of available funds, budget cycles, and thresholds. When controls are in place, an organization can plan, measure, manage and forecast its financial resources throughout its fiscal year.
After budgets have been approved in Dynamics 365 Finance, budget managers can use budget plans to generate budget register entries to record the expenditure budget for an organization. Alternatively, you can create or import budget register entries from a third-party program instead of using budget planning functionality.
Organizations can configure budget planning and then set up budget planning processes to meet their policies, procedures, and requirements for budget preparation. Budget plan documents can be viewed and edited using one or more layouts. Each layout can have an associated budget plan document template to view and edit the budget plan data in an Excel worksheet.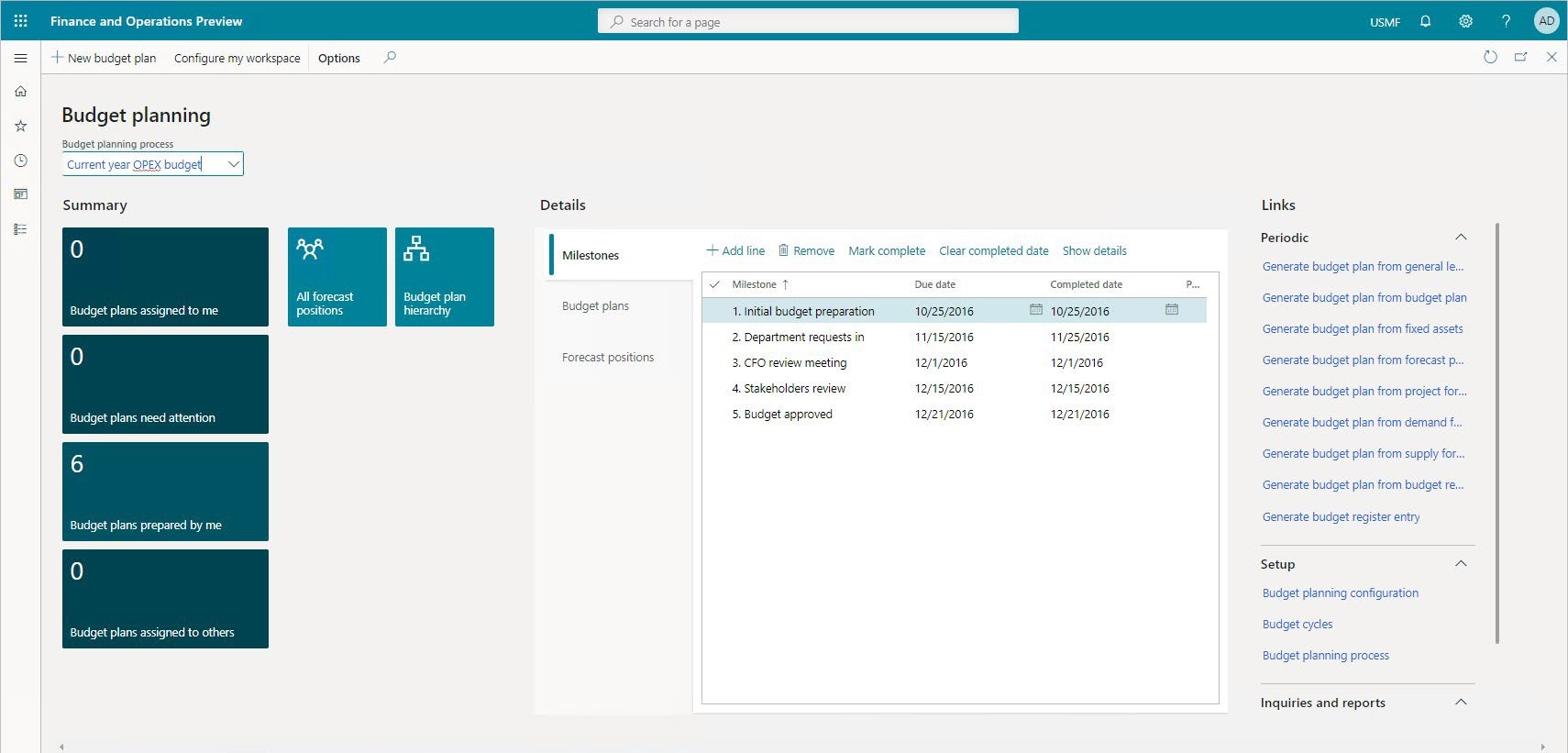 Project management and accounting
A project is a group of activities that is designed to provide a service, produce a product, or achieve a result. Projects consume resources and generate financial results in the form of revenues or assets. The Dynamics 365 Finance Project management and accounting module enable you to plan, create, manage, control, and complete projects for your organization.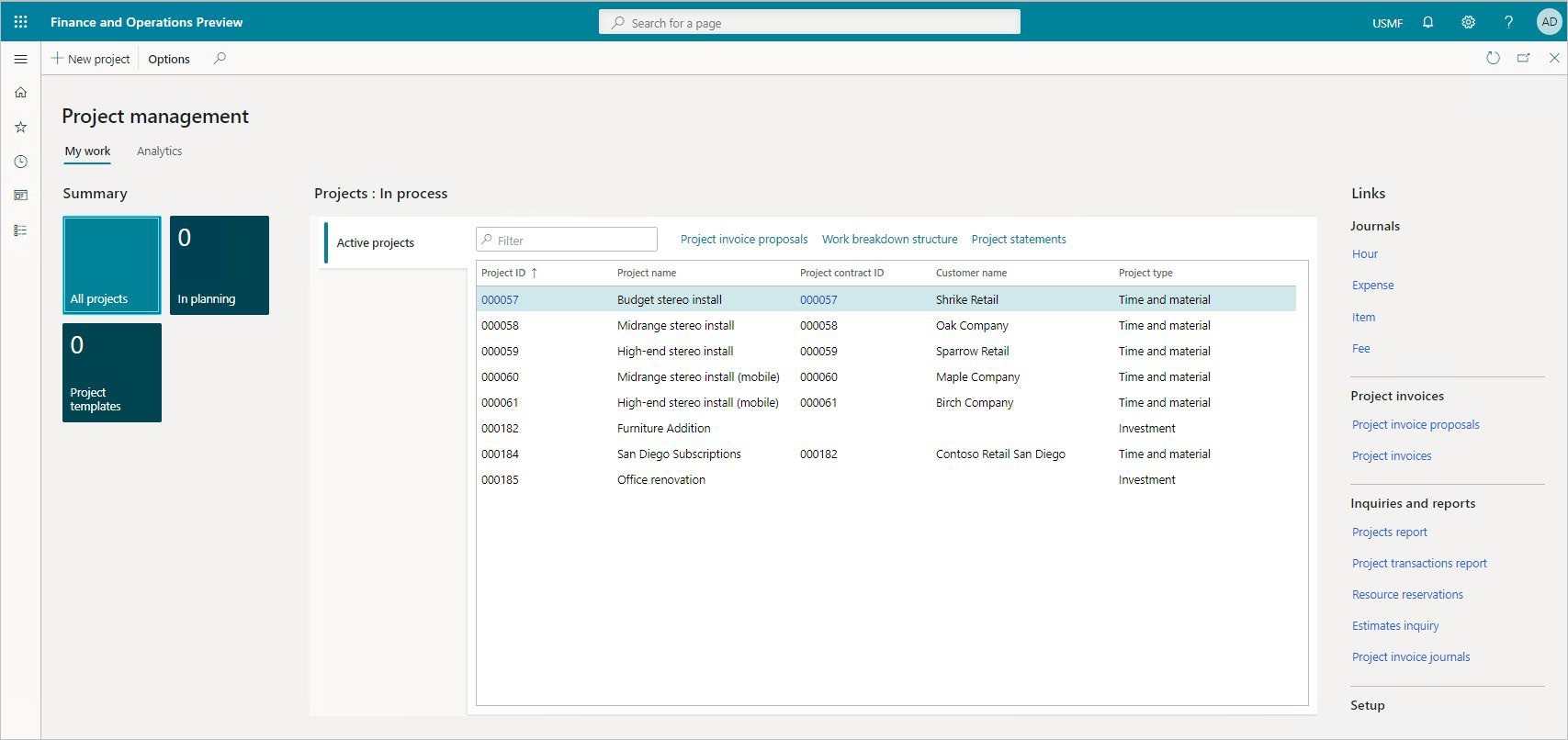 Project managers can work across multiple industries to provide a service, produce a product, or achieve a result. The project management and accounting functionality can be used in multiple industries, as shown in the following illustration: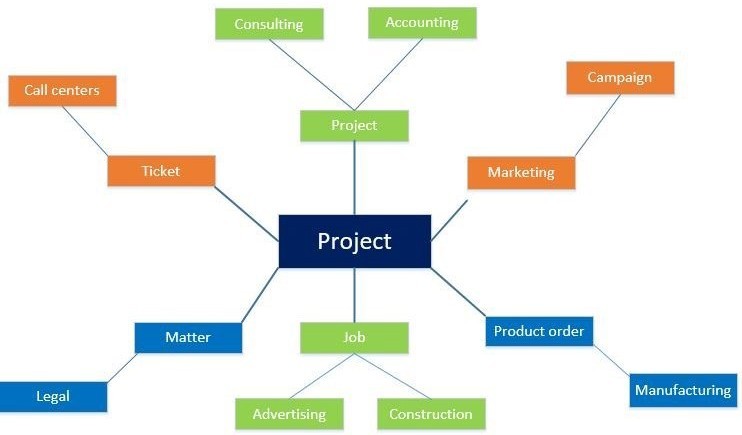 For example: In a call center, a ticket can be used to describe the set of actions that are required to resolve a call. Consulting companies, such as management or technical consulting organizations or advertising agencies, refer to their activities as projects. In marketing, a campaign represents a set of work that must be delivered. In project-based manufacturing, a production order refers to the work that must be done to produce some finished goods. Whatever name is used for them, these projects involve resources, schedules, and costs, and the project management and accounting functionality can help with the planning, execution, and analysis of these projects.
Project managers can manage the resources and finances, create project quotations, contracts, and funding sources to set project financial perimeters, review a post hour journal and create project invoice proposals as they move projects through phases.
The project type determines which invoicing procedure should be applied. Only the two external project types–time and material and fixed-price– can be invoiced. Time and material projects and fixed-price projects are always attached to a project contract.
Fixed-price projects: The customer invoice amount is based on invoice billing schedules. Invoicing is done through an on-account setup, which is also referred to as a billing schedule. Fixed-price projects can be invoiced per project or per project contract.
Time and material projects: The customer invoice amount is based on transaction lines that are entered on projects. Transactions can be invoiced per project or per project contract.
Either type of project may require purchases to be made. The Project management and accounting module can interact with procurement and sourcing to generate a purchase order, which will then be settled in Accounts payable.
Also, during the execution of a project, you create invoices for your customers, and the sales and marketing departments will continue to manage the quotations and convert them into invoices for ongoing projects, alongside their typical role of marketing the goods and managing the sales. Customer payments, and perhaps refunds, are managed in accounts receivable.
By using a project contract, organizations can invoice one or more projects at the same time. The project contract also helps guarantee a consistent invoicing procedure for every subproject in a project structure. Every project that will be invoiced must be associated with a project contract. The settings for a project contract apply to all projects and subprojects that are associated with that project contract.
Real-time cash flow visibility
Organizations use the Dynamics 365 Finance Cash and bank management module to maintain the legal entity's bank accounts and the financial instruments that are associated with those bank accounts. These instruments include deposit slips, checks, bills of exchange, and promissory notes. You can also reconcile bank statements and print bank data on standard reports.
All incoming and outgoing funds will be recorded in the general ledger, and each bank has a corresponding account in the general ledger chart of accounts, therefore, it makes it easy to reconcile bank statements with financial management transactions in periodic processing.
The Bank management workspace shows information that is related to company bank accounts. This workspace includes a summary view and an analytics page. The summary view shows summary tiles, bank account information, a balance chart, and related information. The analytics page uses the capabilities of Microsoft Power BI to show visuals that are related to bank account balances.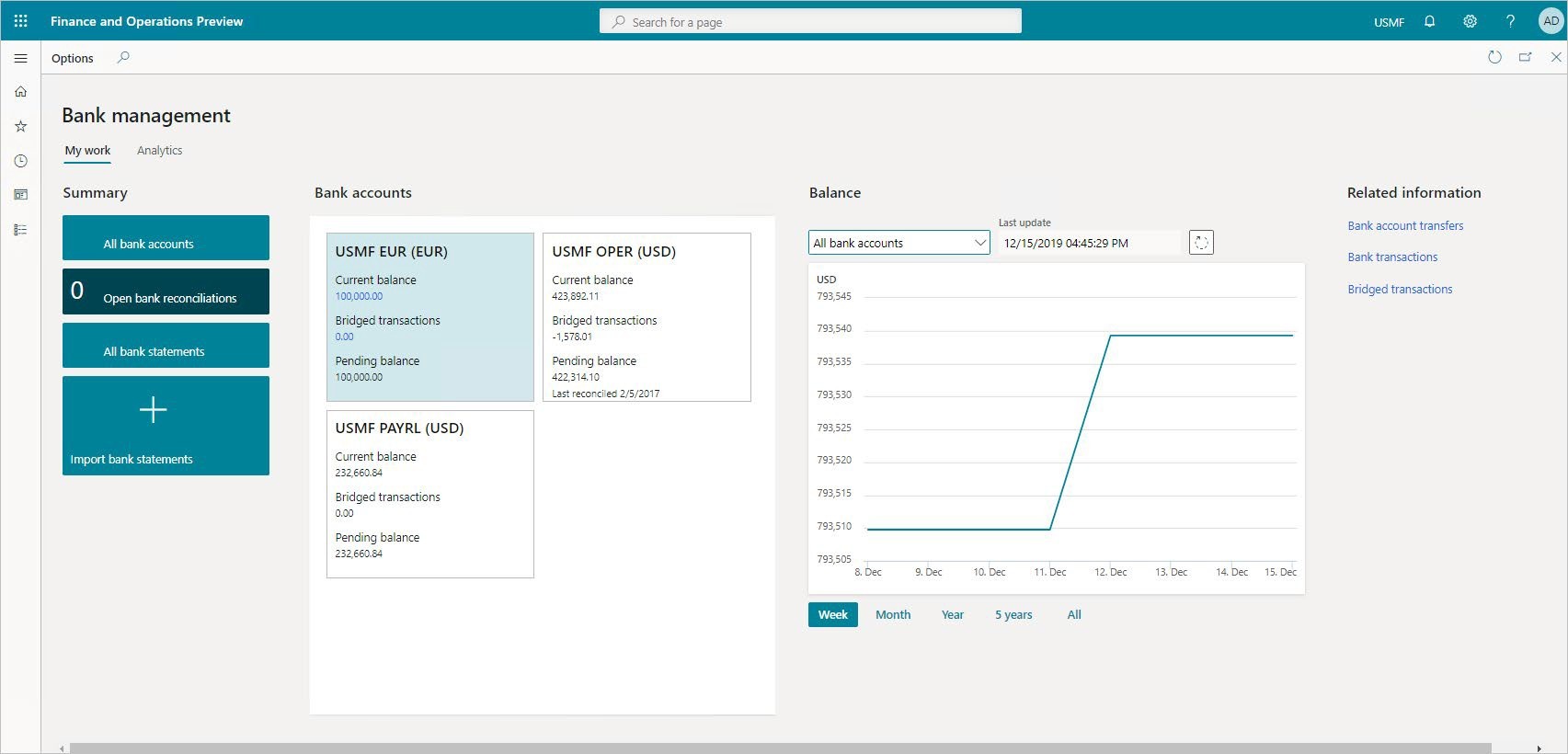 The following figure illustrates the typical cash and bank management processes of a business: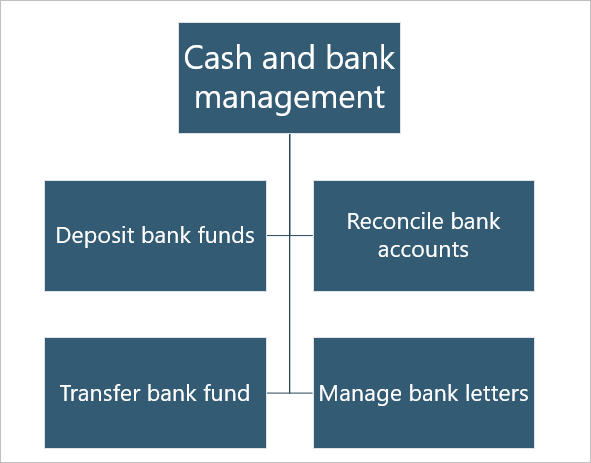 Cash flow visibility
Dynamics 365 Finance offers tools, features, and a workspace with built-in intelligent controls to give real-time insight into an organizations' cash flow, product supply and demand. It can analyze customer demographics and the cost of goods so that a company can negotiate more advantageous agreements with their vendors and customers.
Organizations can use the cash flow forecasting tools to analyze upcoming cash flow and currency requirements so that they can estimate their future need for cash while keeping an eye on budgeting and inventory management for better oversight and better preparation for the future.
To obtain a forecast of the cash flow, CFOs must complete the following tasks:
Identify and list all the liquidity accounts. Liquidity accounts are the company's accounts for cash or cash equivalents.
Configure the behavior for forecasts of transactions that affect the company's liquidity accounts.
After they've completed these tasks, they can calculate and analyze forecasts of the cash flow and upcoming currency requirements.
Cash flow forecasting can be integrated with general ledger, accounts payable, accounts receivable, budgeting, and inventory management. The forecasting process uses transaction information in the system, and the calculation process forecasts the expected cash impact of each transaction.
The following types of transactions are considered when the cash flow is calculated:
Sales orders: Sales orders that aren't yet invoiced, and that result in physical or financial sales.
Purchase orders: Purchase orders that aren't yet invoiced, and that result in physical or financial purchases.
Accounts receivable: Open customer transactions (invoices that aren't yet paid).
Accounts payable: Open vendor transactions (invoices that aren't yet paid).
Ledger transactions: Transactions where it's specified that a future posting will occur.
Budget register entries: Budget register entries that are selected for cash flow forecasts.
Demand forecasts: Inventory forecast model lines that are selected for cash flow forecasts.
Supply forecasts: Inventory forecast model lines that are selected for cash flow forecasts.
Although there is no direct integration with project management and accounting, there are several ways to include project transactions in the cash flow forecast. Posted project invoices are included in the forecast as part of open customer transactions. Project-initiated sales orders and purchase orders are included in the forecast as open orders after they are entered into the system. You can also transfer project forecasts to a ledger budget model. This ledger budget model is then included in the cash flow forecast as part of the budget register entries.
Period and year-end closing
At the end of a fiscal year, organizations must generate closing transactions and prepare their accounts for the next fiscal year. They can use the consolidation functionality to combine the financial results for several subsidiary legal entities into results for a single, consolidated organization. Smooth and timely month-end closing coupled with timely and accurate reporting is imperative for the overall operational health of an organization.
Dynamics 365 Finance capabilities, such as a shared chart of accounts across multiple legal entities and dashboards with the ability to provide a global birds-eye view of an organization, allow global businesses to do more.
The Financial period close workspace lets CFOs track their organization's financial closing processes across companies, areas, and people. Depending on their view of the Financial period close workspace, they'll see either of all tasks and statuses for a closing schedule assigned to different employees, or just the tasks that are assigned to them.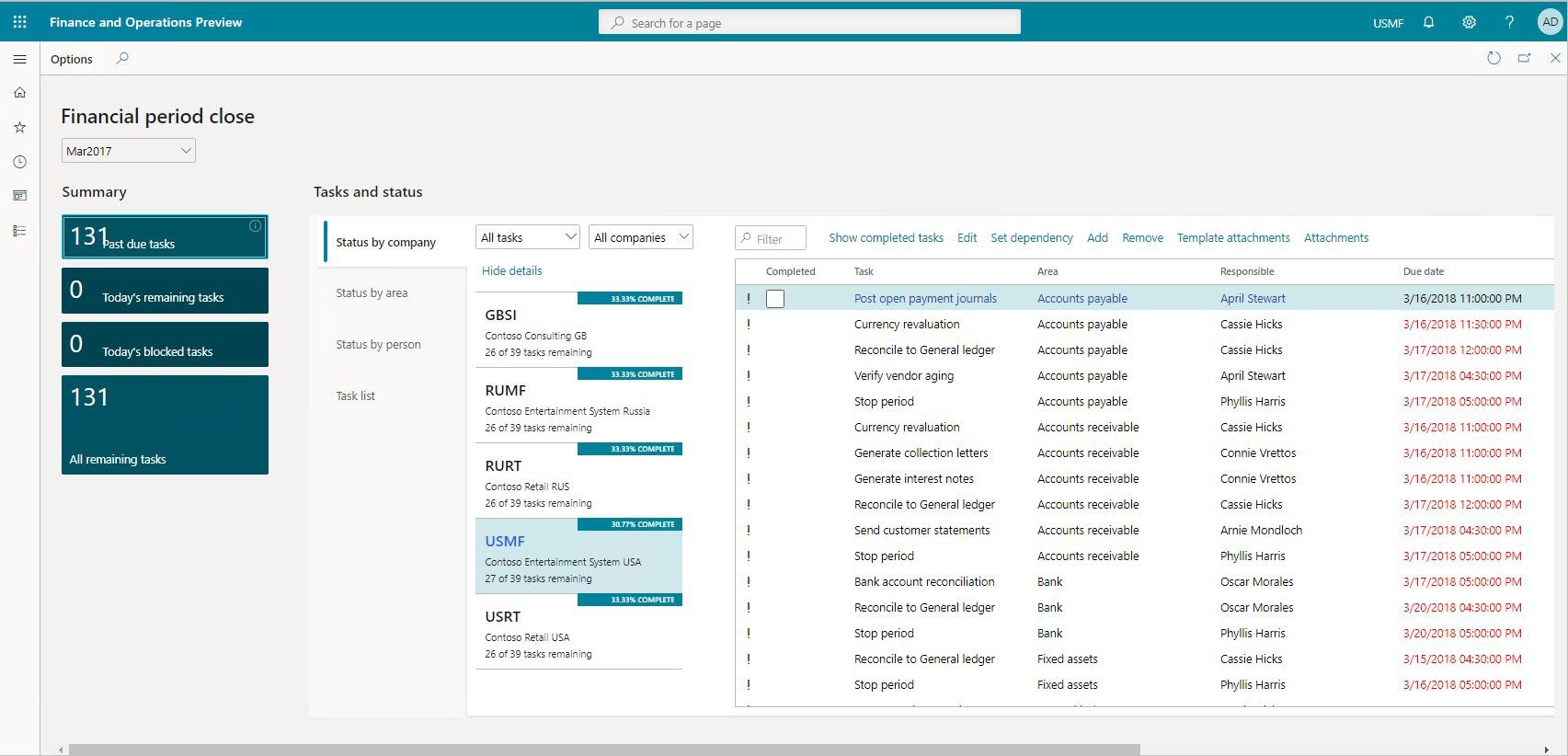 With Dynamics 365 Finance, CFOs can close books faster and simplify global financial management with in-depth reporting capabilities, financial intelligence, and embedded real-time analytics. They can activate flexible and agile financial reporting that supports multiple legal entities and currencies in a single instance that natively handles foreign exchange and shortening the end-of-month process.
CFOs use the General ledger to complete closing procedures for a period or a year. Closing processes prepare the system for a new period. There are many tasks involved, such as preparing filings, inventory closing, consolidation, and many more that need to be completed first.
To prepare the system for a new year, CFOs must run the year-end close process. Each organization has different processes and steps that it performs for the end of a period.
As part of periodic tasks, companies perform the following tasks:
Bank reconciliations
Configure financial period close
Prepare periodic filings
Run foreign currency revaluation processes
Perform financial consolidations
Process end of year tax reporting